"The money's in the list." I'm sure you've heard that many times, but the old marketing cliche offers little solace when your email list is sitting at zero.
Up until last year, I didn't pay much attention to growing my own list of subscribers. But when I realized the huge potential email marketing ROI ($38 for every $1 you invest in it!), I started laying the groundwork and have since gained my first 1,000 subscribers and then some.
Below, I'll share how you can quickly gain your first 1,000 subscribers by understanding something known as conversion-centered design, and how it can optimize your process for collecting email addresses.
What is Conversion-Centered Design?
Unbounce co-founder Oli Gardner created the seven principles of conversion-centered design to help create high-converting marketing campaigns by leveraging beautiful design and the right psychological triggers.
How does this tie into growing your email list? Well, when it comes to gaining more subscribers, you really have two options:
Ideally, you'll do both. Conversion-centered design is a multifaceted framework that you can apply to many aspects of your marketing campaigns. But in this post, we'll focus on optimizing for email signups, and how this framework can be specifically applied to boosting that conversion rate through your landing page, opt-in, or whichever mechanism you use to build your list.
How to Use Conversion-Centered Design to Grow Your Email List
There are five important aspects of your opt-in process that are ripe for optimization using the principles of conversion-centered design.
1. Perfect Your Call to Action
When we talk about conversions, we have to talk about the call to action. This is the direct instruction you give to your visitor telling them exactly what step they should take next. Fail to give a clear call to action, and you'll fail to convert a visitor.
Keep their attention by choosing one call to action.
Unbounce talks about the principle of attention, or limiting the number of distractions on a landing page. Your conversion rate can go down quickly if you have multiple calls to action.
Wait—what's wrong with multiple CTAs? The more the merrier, right? Wrong. You should have a single action you want them to take so you don't distract them from the goal of that opt-in form. You can repeat the CTA in multiple places, especially on long-form sales pages. You can even use different variations in the wording, but they should all have a single goal in mind.
Hilary Rushford of Dean Street Society demonstrates this beautifully on the landing page for her "26 Things I Wish I'd Known My First Year in Business" lead magnet. She has three calls to action (all worded differently) throughout the landing page, but they all lead to the same opt-in form.
Learn what makes a good call to action.
When writing the call to action for your email list opt-in page, remember these two tips:
Be clear. Clarity is another principle of conversion-centered design and also a principle of good copywriting. Make it extremely easy for the visitor to understand what it is you want them to do next.
Tell them what's in it for them. The biggest copywriting mistake businesses often make with their email opt-in forms is to simply say something like "Get my newsletter" or "Join my email list." When you're writing copy, always write from the perspective of the readers asking themselves, "What's in it for me?" They don't care about your email list or your newsletter. They want a benefit. So try something like "Grab a free copy of my cold pitch email templates" or "Get a 20% off discount code." Those lines make it clear what benefit the visitor receives by subscribing.
Split test your calls to action.
As with anything in marketing, you should split test your CTAs to see what works best for your audience. You can use tools like OptinMonster to A/B test your different opt-in forms and calls to action.
ATTENTION: We are launching a new funnel conversions course taught by Oli Gardner, co-founder of Unbounce, that will teach you how to convert traffic into hungry buyers. Click below to get more info on the course and sign up for the waitlist!
Click here to join our Free VIP Waitlist to be notified when the conversions course launches!
2. Create Congruence with Content Upgrades
The principle of congruence in content-based design means "aligning every element on your page with your singular campaign goal," according to Unbounce. This is where content upgrades come in.
A content upgrade is a lead magnet that is specifically created for the blog post it appears in. It's not a generic, site-wide lead magnet. For example, a blog post about how to create your first digital product might include a content upgrade of a "100 Digital Product Ideas" PDF that a reader must give their email address in order to download.
Content upgrades tend to do a better job of getting someone to sign up for your list than a generic lead magnet would. After 100,000 visitors came to his blog, Brandon Gaille found that the "custom-to-post" opt-ins (aka content upgrades) had the highest conversion rates compared to opt-ins used throughout the site or for specific categories of posts. So the more you can customize your content upgrade for each specific post, the better chance you have of winning a conversion.
To create a content upgrade, use an email marketing plugin that allows you to show opt-in forms based on certain criteria or rules. You can achieve this with paid tools such as OptinMonster or free plugins such as MailMunch.
3. Show Credibility With Social Proof
Another principle of conversion-centered design is credibility. Why should people believe and trust you? Brandon Gaille has a Blog Millionaire podcast episode describing different hacks for using social proof to improve your opt-in conversion rate. In it, he recommends showing how many email subscribers you have, using the formula:
Join who get .
An example of this would be:
Join 2,542 entrepreneurs who get our latest marketing tips.
CoSchedule uses social proof by placing its number of subscribers right by its CTA button:
Now, if you have fewer than 1,000 email subscribers, then this won't be very convincing social proof. In that case, Gaille suggests adding how many social media followers you have to create a more impressive number. An example of this would be, "Join 6,378 marketing experts that subscribe and follow us."
To create more social proof, you should also add testimonials from happy subscribers. Hospitality school Hotel Institute Montreux ran a split test that added a testimonial to its lead generation form that offered a free brochure. This resulted in a 50% increase in conversions!
When you're a new brand to a visitor, it takes a lot for them to trust you with their email address. Make it easier for them to take the next step by using social proof to boost your credibility.
4. Choose the Right Type of Opt-in Form
For email marketing, it all starts with the opt-in form. You're required to get permission from a subscriber to send them marketing emails; this is known as the "opt-in." Opt-in forms come in many shapes and sizes. Let's take a look at some of them below:
Embedded Form
Embedded forms are included in part of a web page and are perfect for content upgrades that we talked about above.
They can be embedded into a blog post, like The Daily Pursuit does here: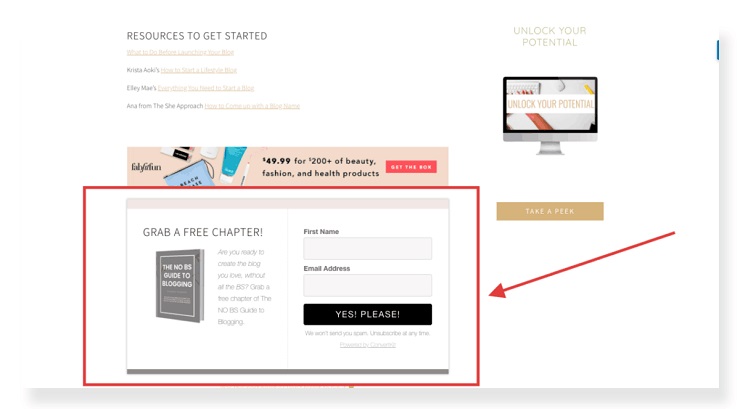 Or at the bottom of a homepage, like Shopify does here:
Floating Bar
A floating bar opt-in is a narrow bar at the top or bottom of a web page. It looks like this one from ActiveCampaign:
The floating bar can be a non-intrusive way to gather email addresses.
Pop-Up
I know, I know—everyone hates pop-ups, right? But here's the thing: they work. Blogger Nikki McGonigal tested a sidebar opt-in versus a lightbox (pop-up) opt-in. After eight months, she compared results and found that the pop-up drove 1,375% more email opt-ins than the sidebar form. Designer Amanda Genther started using pop-ups to grow her list and saw a 301% increase in subscribers.
Welcome Mat
Receiving similar disdain as the pop-up, the welcome mat is a relatively new arrival to the opt-in form scene. The welcome mat completely takes over your screen when you visit a webpage. Here's an example from ProBlogger:
But like the pop-up, the welcome mat can have great conversion rates thanks to its ability to remove all other distractions and make the visitor focus on the opt-in. Fedora tested Sumo's Welcome Mat and saw a whopping 70% increase in signups.
Scroll Box
A scroll box slides into the corner of a screen after the visitor has scrolled a certain percentage. It's a bit less intrusive than the pop-up since it doesn't take over the middle of your screen, and it comes in only at a later point, once that visitor is more engaged.
A scroll box looks like this one from OptinMonster:
Which opt-in type has the highest conversion rate?
The average opt-in rate, according to Sumo, is 1.95%. When broken down by the email opt-in types that Sumo provides, the average is highest for the List Builder (a combo of three types of pop-ups) at 2.9%. The Welcome Mat comes in second at 2.6%. Scroll Boxes see an average of 1.9% conversion rate. And the Smart Bar (floating bar) comes in last at just .5%. Remember, these are just averages, so your conversion rates could be much higher (or lower) than any of these.
If you want the best chance of boosting your conversion rate dramatically, though, it looks like it's best to go with a pop-up or welcome mat.
How many fields should an opt-in form have?
The most basic opt-in form can have just one field: the email address, of course. But it's quite popular to have an opt-in form that asks for both first name and email address. This is so you can later send marketing emails that include a person's name in the greeting and/or subject line, making it feel more personal. An example of this is this opt-in from Grit & Grace Living:
But, the more fields your form has, the less likely someone is to complete it. Sometimes you'll see opt-in forms with several fields, such as this one from Shutterstock that has a whopping seven fields:
The purpose of that many fields is to weed out those who aren't as serious about subscribing, and thereby increase the quality of the lead. But if you want to boost your conversion rate, keep it to as few fields as possible. Matt Thomson of Connect Social Media was able to increase opt-ins by more than 12% simply by removing the "first name" field.
So if reaching 1,000 subscribers as quickly as possible is your goal, I'd recommend keeping it to the "email address" field only.
5. Optimize Opt-In Landing Pages
Unlike the opt-in forms we talked about above, which are used across a website on various pages, landing pages are standalone web pages designed to promote a single product or call to action. You can choose to use an opt-in landing page, one of the various opt-in forms we talked about above, or a combination of both.
Why bother to create a dedicated landing page for your email opt-ins? It provides more context for your visitor and prevents them from getting distracted from the call to action.
Dedicated landing pages are particularly important for ad campaigns in which you're promoting your opt-in, and social media posts that have a CTA to sign up for your list. This is because a landing page has a unique URL you can direct traffic to and will provide message match, increasing the chances of a conversion.
Reduce Distractions
In conversion-centered design, the attention ratio is "the ratio of the number of things you can do on a given page to the number of things you should do," according to Unbounce. The attention ratio should be 1:1. Get rid of menu navigation and other links that do not align with your opt-in form goal. This can have a powerful effect on sign-ups. In one split test by MoneYou, removing distractions from its landing page increased conversions by 14.86%!
Split Test Button Color
There's a lot of talk in the marketing world about the importance of button color, and honestly, sometimes it's overstated. But there are plenty of case studies showing that button color can make a difference in your conversion rates. HubSpot, for example, split tested green versus red buttons on an otherwise similar homepage. Twenty-one percent more people clicked on the red button than the green. Most marketing experts point to red as the ideal CTA button color, but it's best to split test with your own audience.
Create a Thank You Page
Many choose to redirect the visitor to a thank-you landing page after they subscribe. While not necessary, these thank-you pages can be optimized further to get that subscriber to take yet another step. This aligns with another principle of conversion-centered design: continuance.
To implement continuance on your opt-in thank you page, you can ask the new subscriber to share on social media, register for a webinar, or purchase a low-priced tripwire product. If you have a double opt-in for your email list (which I highly recommend you do), the thank-you page can also serve as a reminder for them to click that confirmation link in the email sent to them. This is crucial because if they fail to confirm the subscription, they will not be added to your email list.
Here's how Amy Porterfield does it. After subscribing to her webinar, you'll be redirected to a thank you page that reminds you to check your inbox for the confirmation email:
Then, before you can exit, you'll get a pop-up encouraging you to share it on social media:
Bringing It All Together: Some Simple Math to See Why Conversion Rate Matters
Here's the great thing about conversion-centered design: By improving your conversion rates, you don't need as much volume (traffic). Once you know what kind of average conversion rates you get, it becomes a matter of simple math. If you know your opt-in form has an average conversion rate of 25% (meaning 25 out of every 100 visitors sign up for your email list), then how many visitors do you need to get to the form to get 1,000 subscribers?
1,000 Subscribers = Conversion Rate X Traffic
1,000 = .25 X Traffic
So, in this example, divide 1,000 by your conversion rate of 25%, and you'll discover that you need 4,000 visitors to your opt-in form to get your first 1,000 email subscribers. You can then choose either to invest in paid advertising, such as Facebook ads, to drive traffic to that opt-in, or you can look at about how many visitors a blog post gets in one month, and use that data to forecast how long it'll take to reach 1,000.
So let's say a popular blog post you wrote gets 1,000 visitors a month. If the embedded email opt-in form gets 25% conversion rate, then it'll take you four months to reach 1,000 email subscribers, as long as the traffic rate remains consistent during those four months.
Using conversion-centered design is especially great for new businesses that don't get a lot of traffic. If you can't optimize for traffic at the moment, you can optimize for conversion.
ATTENTION: We are launching a new funnel conversions course taught by Oli Gardner, co-founder of Unbounce, that will teach you how to convert traffic into hungry buyers. Click below to get more info on the course and sign up for the waitlist!
Click here to join our Free VIP Waitlist to be notified when the conversions course launches!
Try Conversion-Centered Design
If you haven't even started to grow your email list, take heart! With these tips on using conversion-centered design, you'll be on your way to 1,000 subscribers in no time. Let's go over what we discussed in this post:
Perfect your call to action.
Create congruence with content upgrades.
Show credibility by adding social proof.
Choose the right type of opt-in form.
Optimize your opt-in landing pages.
Which of these tips are you going to implement in your email marketing strategy? Tell us in the comments!