You're living in the greatest time in history to be a self-starter. Where those who win are mixing experience with experimentation. The only question left is, are you ready to build?
Where does Foundr come in?
If you're looking for a great resource to hear the stories of today's successful entrepreneurs & learn what's needed to be successful yourself, Foundr Magazine is where you should be allocating your time.
Foundr is the go-to resource for helping today's entrepreneurs build tomorrow's leading businesses.
Starting a business is easy. Building a business is hard. If you want to build something that matters, you know you're going to need all the help you can get. And that's where we come in.
Because if you already know the juice is worth the squeeze, then all you need is the tools, tips and techniques to get you through tough and uncertain times. Proven advice and ideas from the best in the industry, who only got to their position by first being in yours.
We can't make you believe in your business. But if you do, we can show you how to make it happen.
Where does Foundr come in?
If you're looking for a great resource to hear the stories of today's successful entrepreneurs & learn what's needed to be successful yourself, Foundr Magazine is where you should be allocating your time.
Millions have benefitted…
Our Community at Large
0
Countries around the world
0
ENTREPRENEURS INTERVIEWED
About us
Foundr is an independently published global media and education company. We work with the greatest founders of our time, distilling their lessons into magazines, blogs, podcasts, books, and courses. We're about actionable advice, not theory. About practitioners, not gurus.
OUR MISSION is to build a household name entrepreneurial brand that impacts 10's of millions of entrepreneurs every single week with our content and bring true entrepreneurial education to the masses to drive humanity forward.
Meet the crew
Angela Aguinaldo
Customer Success Manager
Jesse Song
Email Marketing & Automation Lead
Karan Jain
Magazine Creative Director
Andrei Safonau
Paid Media and Data Science Lead
Rakesh Lawaju
Full Stack Web Developer
Kristin Martinez- Queyquep
Customer Success Team Member
Laura Newcomer
Publication Manager
Balazs Felinger
Video & Audio Editor
Charles Richardson
Videographer
Alex Safonau
Funnel Builder
Apolonia Bronakowska
Lead Graphic Designer
Mario Agudelo
Video Editor
Mark Simeoni
Social Media Manager
Angelica Trias
Web Developer
Olha Larina
Graphic Designer
Patrik Estevez
Customer Success Team Supervisor
Nicholas Ho
Head of Operations
Pearl Angelie Mae Rubion
Customer Success Team Member
Gabriel Rezende
Video Editor
Marianne Librea
Media Buyer
Ashley Kee
Project Manager & Launch Coordinator
Alexander Agleham
Customer Success Team Member
Charmaine Sabitsana
Media Buyer
Krystal Street
Executive Assistant to the CEO
Mallika Joshi
Graphic Designer
Sheila Mae Desamito
Graphic Designer
Scott Gillies
Videographer
Nicoleta Tache
Product Marketing Manager
Lee Cohen
Senior Course Producer
Luis Javier Kanchi Morales
Video Editor
Wenfei Lian
Senior Full Stack Developer
Bin Teo
Direct Response Copywriter
Leana van der Meijden
Lead Creative Producer for Advertising
Charles Stanly
Senior Product Marketer
Luscheyne Mellon
Head of Product
Vijay Patel
Inside Sales Team Leader
Luke Ferris
Content Editor
Dusan Jevtic
UX/UI Designer
Maura Malinang
Customer Success Team Member
Conan Pobar
Customer Success Team Member
Keith Dizon
P&C Coordinator
Matt Beard
Chief Financial Officer / Chief Performance Officer
Marco Miranda
Chief Revenue Officer
Elreen Ducanes
Social Media Assistant
Richie Zara
Inside Sales Representative
Morgan Sutherland
Partnerships and Talent Relations Manager
Tasneem Mall
Financial Accountant
Eman Dizon
Customer Success
Michelle Patino
Digital Graphic Designer
Ellie Calingal
Customer Success
Terry Dehghani
Inside Sales Representative
Noble Bushby
Inside Sales Representative
These are the innovative creators that bring you Foundr. They're obsessed with substance, not just style. Creating content that's less about a set of rules, and more like a guide. Building a brand that acts as a platform instead of a uniform.
Interested in joining the Foundr crew? Check out our careers page
The Spark
That Ignited
Foundr
From idea and bootstrapped startup, to becoming a leading entrepreneurial resource serving millions
Sadly the educational market for entrepreneurs had become oversaturated with "guru's" and people who value squeezing a buck out of you more than they do truly helping you build something that matters.
Fortunately the entrepreneurial kingpin Richard Branson, agreed and his interview kicked Foundr off with a running start. That was 2013.
Today Foundr remains completely bootstrapped. In true startup fashion we're moving faster than ever and continue to work solely with those who are actual practitioners, real founders. We're hiring, innovating, taking action, failing, succeeding, and turning around and transparently sharing everything we learn with our incredible community. If you win, we win.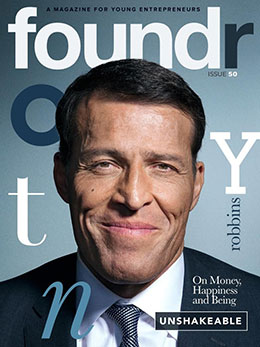 WE'VE FEATURED HUNDREDS OF ENTREPRENEURS