A journey of a thousand miles begins with a single step, but that step is far from easy. Every day, thousands of entrepreneurs around the world take the leap—but millions of would-be entrepreneurs don't.
What's keeping them from starting their entrepreneurial journey?
They don't know where to begin, they don't know how to start a startup, and they ultimately get stuck in endless Google rabbit holes reading the advice of "gurus" who've never actually done it before.
We often forget that the most successful entrepreneurs in the world all started the same way. They didn't know what the first step was or what they had to do, but they managed to take it and become the amazing success stories they are today.
Don't Skip: What You Can Learn from 7 Startups That Made It Big
At Foundr, we talk to successful entrepreneurs every day, and they continue to share the latest and greatest (proven) advice on starting a business. Below, we've compiled tips, workarounds, and know-how from 16+ founders (who've actually done it) on how to start a successful business.
Ready to start your startup? Take notes, and make it happen.
16+ Pieces of Golden Advice on How to Start a Startup
1. Stop Waiting for Investors and Capital
Sit around waiting for the stars to align, and you may never reach your dreams. Jaime Schmidt knows from experience.
Schmidt had burned through 22 jobs in her career before starting her first business. She finally began Schmidt Naturals living off $35K in joint income with a brand-new baby. She would create her all-natural products at home and sell them at the local farmer's market.
Schmidt had no investors, no capital, and no time—but she made it happen.
"We were strapped for cash constantly, but somehow we made it work," says Schmidt. "I grew up with a very frugal mentality and upbringing…but you also have to be willing to spend money when you're building a business.
"The trick is in knowing where: where to be frugal and where to be willing to spend."
Schmidt went on to scale her brand from a raving farmer's market community to a 9-figure exit in the space of 8 years.
Don't sit around waiting for investors to believe in your idea—sometimes, you just have to run with it and do what you can with what you have. If it's a good idea, the money will follow.
2. Be Persistent
In the end, you can't do this alone. You need money, customers, advice, connections, and a break.
Yoni Assia knew this, and that's why he badgered Warren Buffett and Justin Sun to get dinner with them.
"I started sending him emails, telegram, WhatsApp, bombarding him," says Assia. "And after a while, he said, 'Oh, let me think about it.'
That persistence led to a dinner with Warren Buffett, and that persistence is what helped scale his business to $5.5 million in revenue during its first year of operation.
"Find something you believe in and be persistent in getting what you want. Be open with others—don't try to be secretive. Tell people about what you want to do. That's the only way ideas can actually grow—through dialogue and brainstorm with more people."

3. Try, Try Again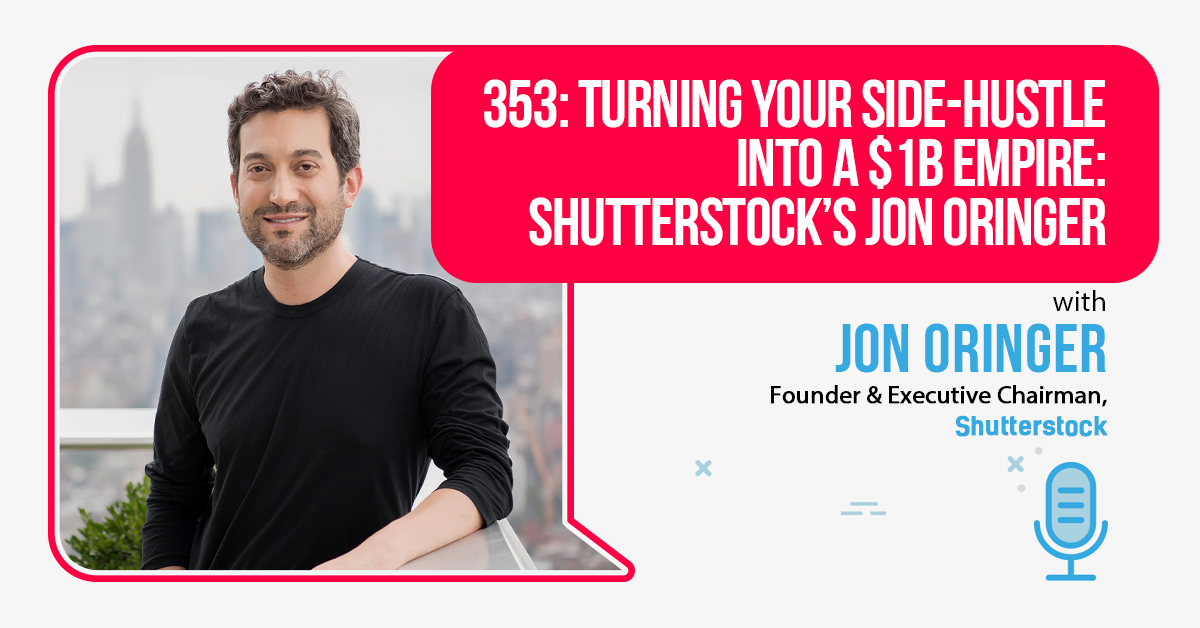 You'll rarely get it right the first time. Be prepared to work hard, do your best, and start it all over again from scratch.
It wasn't until Jon Oringer launched his 10th company that he found the success he was looking for—but he didn't expect Shutterstock to be the one to stand out from the crowd.
"Each were teaching me something different," says Oringer. "I was making progress. It felt like I was getting somewhere, and [the startups] weren't all complete failures. They sold hundreds of thousands of dollars a year in sales, but I was looking for that bigger company."
"I was trying to figure out how I could build something really big."
You might not hit it big the first time, the second time, or even the ninth time, but stick with it—the worthwhile one will eventually come around.
4. Find the Problem, Create the Solution
There's nothing wrong with chasing the green, but your startup ultimately needs to solve a need. Customers have problems, and it's your job to create a product or service that helps.
Often, entrepreneurs find valuable solutions to their own problems. That was the case for Gail Becker, founder of CAULIPOWER.
"I'm the mom of two boys with celiac disease, and I got really frustrated, and you could definitely say CAULIPOWER was born out of a frustration of waiting," says Becker.
"I got really tired and frustrated with seeing what the industry was putting in gluten-free food."
You don't even necessarily need to create a brand-new product. Becker didn't.
"I stumbled across cauliflower crust pizza on the internet. I didn't invent it. The day I looked, there were 569,000 recipes. I picked one. I couldn't even tell you which one I picked."
After spending 90 minutes making the cauliflower crust, Becker knew she couldn't be the only exhausted mom out there. She quit her corporate job, launched CAULIPOWER, and hit $100M in sales in just 3 years.
Find the problem, and create the solution. It can even be your own problem.
5. Place a Financial Wager on Yourself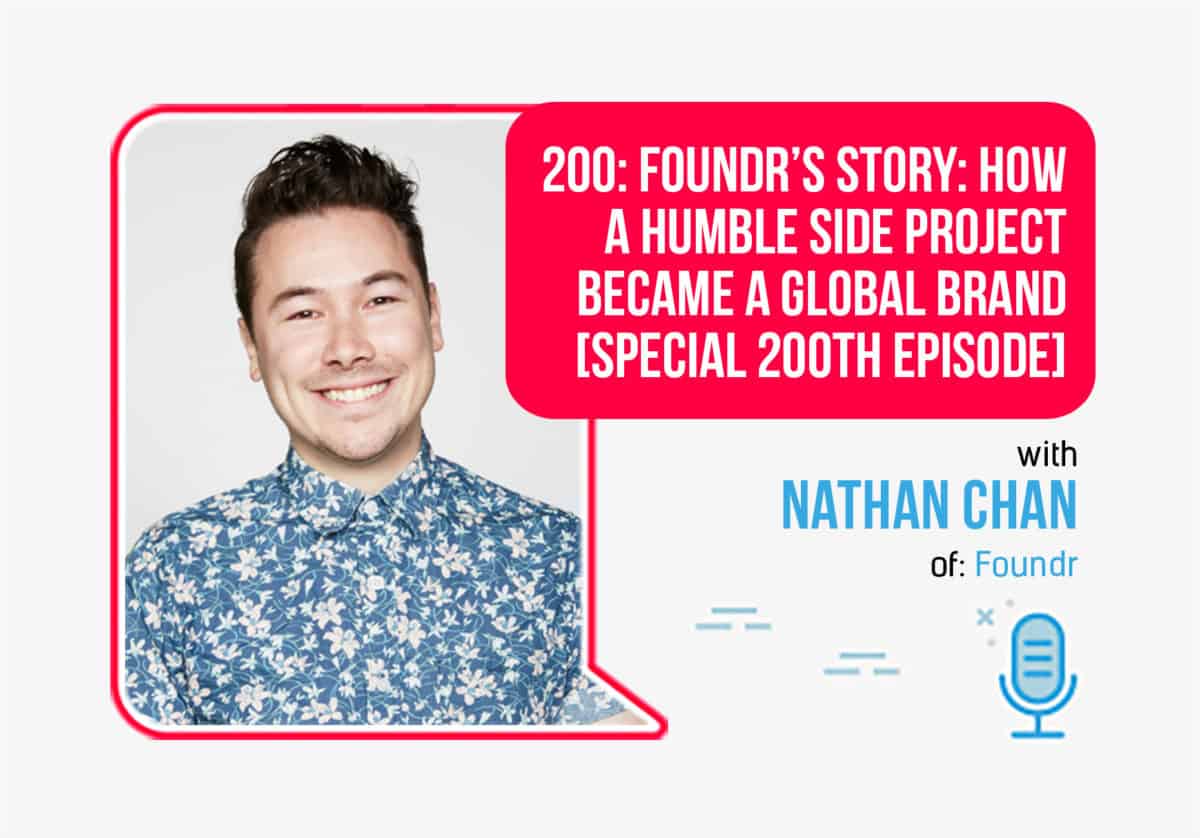 If you're not willing to put money on yourself, who else will? If you believe in an idea, make the sacrifices to make it happen.
Not willing to invest your savings into your startup idea? Find a new idea. When the idea is right, putting money behind it won't feel like a make-or-break risk.
"Foundr began because I saw a gap in the market," says Nathan Chan, Founder and CEO of Foundr.
"There wasn't a digital magazine producing content for young aspiring and novice-stage entrepreneurs and startup founders, and I wanted to fill that."
"My first step in starting Foundr was placing a financial wager on myself. To start Foundr Magazine, it required publishing software to produce the magazine and app. I placed $2,000 on the back of my personal card to start the app. This was money I didn't have and also the money I definitely didn't want to waste."
6. Make Sacrifices
The life of an entrepreneur isn't glamorous, especially in the early days. Successful founders might be depicted as drinking endless martinis on white-sand beaches as they rake in cash, but that's not the whole story.
In the beginning, it takes a lot of sacrifices. Take Leila Janah, Founder and CEO of Samasource, for example.
"I love reflecting on the early days because there I was at 25 years old, sleeping on a friend's futon, eating Top Ramen (a mentor of mine actually sent me $20 a month via PayPal for what he called a "Protein Fund"), trying to convince Silicon Valley investors to give me money for this bold idea I had of giving work to marginalized people as a means to solve global poverty," says Janah.
Fast forward to today, Samasource has moved over 33,000 people over the poverty line in East Africa, India, and Haiti.
The early days of your startup will likely be filled with similar experiences. Embrace them, and let them shape you.
7. Ignore the Naysayers
You're going to have doubters. Others won't want you to quit your 9-to-5. They'll tell you you're crazy or you're not cut out for this.
To become a successful entrepreneur, you'll need to block out the negativity, absorb constructive feedback, and forge ahead.
Darrell Wade, Co-Founder and CEO of Intrepid Travel, saw a gap in the marketplace between organized tours and adventurous backpacking outings. A friend and Wade hit on the idea of small groups, experienced leaders, and off-the-beaten-path itineraries.
They created a paper-based MVP outlining what the trip would look like to run it past a few experts in the travel industry. They wanted to know if it would work.
"They all said we'd fail. Having never been one for market research anyway, we pressed ahead and launched anyway."
"We got a few sales, validated the model, invested every cent we could scrounge up, and then went hungry for a while," says Wade. "It certainly was not an overnight success, but we took 47 travelers to Thailand in our first year, and that was just enough for us to have a second year.
Now, Intrepid Travel takes hundreds of thousands of travelers to over 120 countries every year.
You'll have doubters and naysayers on your journey, too. They could be your co-workers, friends, industry experts, lenders, investors, or even your mom. Do your research, block out the negativity, and do what you think is right.
8. Just Get Started
There's always more to learn, and you'll never feel 100% ready to launch your startup. Learn as you go.
"The best piece of advice I can give is: just get started," says Melanie Perkins, Co-Founder and CEO of Canva. "If I realized how much I would need to know before I started, I probably would have been too terrified to get going.
"I'm a big believer in just-in-time learning, and we've learned a lot as Canva grew, and we'll continue to keep learning as we grow."
After just 2 years, Melanie Perkin's Canva had 8 million users, a $233M valuation, and a team of rockstar investors. She didn't know everything from the get-go, and you don't need to, either.
You could read every article on our website, listen to every podcast, and watch every course—but you'll eventually need to take a leap. Don't wait. Just get started.

9. Build Trust and a Network
Invest in building a network you can trust. Start early—as in now. You might need a co-founder, employees, or a connection to the right person.
These are invaluable assets that money can't buy. You have to put in the time and effort to build genuine relationships.
James Beshare, CEO of Tilt, attributes much of his platform's success to his network.
"To do anything of consequence, you've got to have both trust and a network. Everything else can come from that. Investment, refinement of an idea, co-founders, first recruits, all can come from building trust and a network—one is useless without the other. Even at a young age, start proactively investing in both."
Building a network doesn't mean you have to register for every upcoming conference and become a schmoozer. However, you do need to be intentional about reaching out, building friends, giving, and taking.
Don't wait until you need help to start building your network—it'll be too late and ingenuine. Start now.
10. Validate, Validate, Validate
You don't have a good idea until you find customers willing to pay for it. Once you've got an MVP, put it in front of customers. Even if you don't have an actual product or service yet, test your audience to see if they'll get out their wallets or click the "Buy Now" button.
If they do, then you're on to something. If they just say it's a "good idea" but don't put their money where their mouth is, then there's a good chance the rest of your audience will too.
"My first step was to find 10 people willing to pay my asking price (at the time, it was $99/month)," says Rob Walling, Co-Founder of Drip. "Once I had verbal commitments from 10 people who wanted Drip, we put up a landing page and started building an interest list and broke ground on the code."
Walling essentially did a double validation—a verbal validation to confirm it was worth his time to create a landing page and a landing page to confirm he should start getting to work on the code.
Validate your ideas before you get too into the weeds. You don't want to invest too much time, money, or passion into a project that's not going to work.
11. Protect Your Equity
VC funding is not free cash. You're often trading valuable equity in exchange for (relatively) small funds.
Debt may seem more intimidating, but you ultimately pay back your debts. When you give up equity to investors or even partners, you lose it for good.
Vishen Lakhiani, Founder and CEO of Mindvalley, was very intentional with his startup. When he set out to build Mindvalley, he paid an old high school friend 2,000 Ringgit to build the first website—he didn't trade equity to get started.
"Be very careful with whom you share equity," says Lakhiani.
"Your equity is your future wealth. Do not give it away too freely. Do not underestimate your own abilities."
12. Know Your Customers
Get to know your customers on a deep level. Understand their wants, needs, fears, and desires. The more you know about your customers, the better you'll be able to build and market your products and services.
To learn more straight from the mouths of her potential customers, Georgina Nelson, Founder and CEO of truRating, took to the streets.
"I had no idea at the beginning whether my dream could actually become a reality or would make any money, so the very first thing I did was walk the streets and speak to those people who might buy the truRating product," says Nelson. "After we had proven that it was technically possible, I reached out for investment."
Launch market research, run surveys, and interview customers to learn more about their wants and needs. In the end, it doesn't matter what you want the product to look like—it matters what they want.
Ask for honest feedback, and don't get defensive. Listen. What are the recurring themes? What are the needs?
12. The Customer is Your Boss
Kendra Scott, founder and CEO of the self-titled jewelry empire, discovered that her strength as a leader is her connection with the customer. It's why she still walks the floor of her stores, capturing that nightclub energy that defines the Kendra Scott brand.
"My first and only job here is to make sure that she [the customer] is the boss," Scott says.
"You have to keep exceeding those expectations for your customer."
Being a college dropout and failed business owner never defined her legacy. But these experiences are part of Scott's motivation to fulfill her childhood dream of making the world a better place through fashion.
"It doesn't matter where you come from, and it doesn't matter what you're told you should do or how your path should look," Scott says. "Focus on building the best business you can build, and everything else will follow."
13. Trust Your Gut
The biggest lesson Suneera Madhani learned in her career happened when she met with her board following the first term sheet offer.
"It was a s***show of a board meeting," Madhani says. The investors had reduced their initial $17 million offer to $12 million. "If you're negotiating with one party, you're negotiating with yourself."
But the board still wanted to take the deal.
"I said, 'You guys just invested in this business. What has changed in the last six weeks that you're ready to take this minimal offer just incrementally more than you invested in?'"
Madhani didn't back down. She relied on what she describes as her "three minds"—analytical, heart, and gut.
"I need all three to make the decisions, and when one isn't feeling right, I have to trust that."
Shortly following the rejection of the bid, she received another term sheet for $50 million. It was a private equity deal that bought out their initial investors—the boardroom naysayers—and exited them 18 times their investment.
"Your intuition is the most powerful tool you have, [so] use it and don't discount it and listen to it."
To date, Stax has raised $500 million in capital and is growing triple digits year-over-year. In March of 2022, Stax officially became a unicorn startup with a valuation of more than $1 billion.
How Her Rejected Pitch Led to a Billion-Dollar Startup
14. Don't Forget What Really Matters
Your business might be your baby, but don't forget the things that really matter to you: family, friends, experiences, hobbies, and passions. You can love your business and invest your heart and soul into it, but don't take yourself too seriously.
Work hard, seek contribution, play hard for success, but don't forget the big things that matter," says Nick Molnar, Co-Founder and CEO of Afterpay. "While I have made mistakes—we all do—I have a beautiful wife and amazing parents, and that makes me happy and proud."
15. Give Back
According to Mike Evans, founder of food delivery company Grubhub, greed comes from a couple of places as businesses become successful. When you start a business, there are grand ideas about success, but you're worried first about building a product for customers. As success comes, Evans says founders easily forget the value that brought them there.
"If you change the way a million people do something in just a slight way and you make a little bit of a profit from it, you'll become crazy rich," Evans says. "It's so easy to forget that's not the point."
To prevent greed from overwhelming your business, Evans provides two solutions. First is focusing on customers and continuing to provide them value. The second is philanthropy.
"The only defense against becoming a rich asshole is to start giving [away] money quickly," Evans says. "Wealth can very easily change a person, and not for the better."
How to be Successful, Without Being Greedy | Mike Evans of Grubhub
How to Start a Startup FAQs?
What makes a successful startup?
Ah, yes, if there were a perfect answer to that question, every startup would eventually be trading on the stock exchange. Unfortunately, the reality is that your startup will likely fail. You need to start a startup for the right reason—not fame and wealth but to solve a problem that will help people at scale. Begin with solving a problem. It's the best way to start a startup that survives and hopefully thrives.
What mistakes should I avoid when starting a startup?
The most common mistake of startups is creating a business that doesn't solve a problem or fill a need. In addition, we see mistakes stem from picking a co-founder with poor communication skills, not finding a product-market fit, and focusing too much on fundraising instead of serving the customer.
How do I navigate the challenges of starting a startup?
If you plan to commit to a long-term entrepreneurship lifestyle, you must obsess over your self-development as much as your startup. With an unhealthy founder at the helm, most startups lose momentum or collapse from within. Leading a startup isn't a typical job. You need to focus on taking care of yourself first to tackle the daily challenges you'll face in your business.
Keep Learning How to Start a Startup
Get started. It's that simple. Learn the basics, and get to work.
We can help. We have a catalog of free trainings to help you with every aspect of starting and growing your business. Here's a taste of what you can learn:
There's all that and more when you sign up for Foundr+. Check it out to learn everything you need to know to launch your startup.