Building an ecommerce business is no easy task. Between product development, marketing, and customer service, ecommerce business owners have a lot on their to-do lists. It can be tempting to choose any old order fulfillment strategy simply to get it done.
Order fulfillment can seem like an afterthought, after all. Once you snag a customer and complete an order, you've already made your money…right?
Technically, yes. But the buck shouldn't stop there. Choosing the right order fulfillment strategy for your business can make or break you—getting it right can give you indispensable brand recognition, priceless word-of-mouth, and repeat customers you'll need to thrive.
Why is it so powerful? The order fulfillment process is your only human touch in an otherwise digital transaction with the consumer. Nowadays, with storefronts moving from brick-and-mortar to online avenues, brands have fewer and fewer chances to interact with their audiences.
Sure, a well-written landing page, a funny social media post, or a witty order confirmation email can communicate personality, but there just isn't anything like a handshake and hearty "Thank You!"
Does this mean we should drop all ecommerce efforts and only sell from the corner store? Heck naw! No, you can't quite recreate the personal touch of a face-to-face sale, but the right order fulfillment process can help humanize your product and brand.
Your product or service delivery is the final and lasting impression of your business on the consumer. The length of delivery time, how your product is packaged, the quality and variety of provided print materials, the ease of exchanges and returns—it all contributes to your brand perception as a whole.
The caliber of your order fulfillment process is a key factor in whether a consumer becomes a loyal customer or is simply a one-time buyer. If they love it, they'll be back. If they aren't a fan, they'll probably be thinking, "Well, I'm glad I only did that once." And repeat sales are the only way most ecommerce businesses survive.
Lastly, your order fulfillment strategy directly impacts your ability to scale. Today, you may be a one-person operation selling homemade dog scarves out of your garage, but choosing the right order fulfillment strategy early on can determine your potential to become a dog scarf-making empire in the future.
I know, I know, "order fulfillment" might sound a little dry, but trust me. It's the difference between having a couple of websites, and a living, breathing small business. And we'll show you how to get it right.
Get a FREE Lesson from Our Course: Ecommerce Masters! Learn the FASTEST Path to a Million-Dollar Store
The Big Three: Popular Ecommerce Order Fulfillment Strategies
There are three major avenues for order fulfillment: direct fulfillment, drop-shipping, and third-party fulfillment (also known as 3PL). Each strategy comes with its own advantages and disadvantages.
Ecommerce businesses of all ages, industries, and sizes use each of these strategies, and some even choose to leverage more than one.
For example, US-based apparel company NerdSwag uses a combination of fulfillment strategies to send out orders. According to owner Justin Emig, "I outsource almost all order fulfillment through a fulfillment and drop-ship organization. However, for products that are high-volume sellers, I inventory and ship them myself. Drop-ship tends to be for newer products, until they prove concept, then larger production runs and inventory the products to reduce costs."
Combining strategies allows businesses to extend their selling and shipping reach without investing in more labor, software, or real estate. A mix of fulfillment tactics also provides you with flexibility and testing opportunities.
But before we go further, let's review the three main order fulfillment strategies.
Direct Fulfillment
Direct fulfillment, also known as self-fulfillment, is precisely as it sounds: You fill orders yourself.
Self-fulfillment is frequently used by businesses on both sides of the size spectrum: The homemade goods sold by a single owner and the massive corporation that can afford to own warehouse space, equipment, and multiple teams for labor.
So self-fulfillment can look very different, depending on the industry, budget, and physical size of a business.
Advantages
There are a few notable advantages to this strategy. With self-fulfillment, you have total control. You know precisely how your products are organized, stored, and packaged, and you have the ability to add a personal touch—via handwritten note, special packaging, or specific seal—to each shipment.
Self-fulfillment, depending on the size of your business, could mean a lot in cost savings. You don't need warehouse space, specific equipment or software, or even extra labor to help you fulfill your own orders. Because of this, you don't need to network, negotiate, or have as many business contacts, either. (Obviously, these rules don't apply if you're a massive corporation that owns warehouse space and a dedicated fulfillment team.)
Disadvantages
With self-fulfillment, what you save in funds, you spend in time and energy. Self-fulfillment takes a lot of work. You (and/or your team/spouse) are responsible for every function in the order fulfillment process, from picking to packing to handing it to the mailman. And if you want to turn your orders around quickly, you have to be available to fill them practically 24/7.
Depending on your product and production cycle, self-fulfillment also requires ample storage and workspace, like a garage, spare room, or sizeable basement. You also aren't afforded the shipping discounts that fulfillment centers and drop-shippers negotiate with their partners.
A direct fulfillment strategy is commonly used by ecommerce businesses that…
are early-stage startups that need to save money OR massive companies that can afford to manage every part of order fulfillment;
sell homemade or customized products;
prioritize the personalization of their product packaging.
Drop-Shipping
Drop-shipping is when companies pay for fulfillment as orders come in, typically from the manufacturer or vendor itself. Basically, when a customer places an order, your drop-shipper receives a notice. They pick, pack, and ship the product and charge you only for that piece of inventory.
When going with a drop-shipping strategy, ecommerce businesses own no inventory themselves but are responsible for all the ecommerce marketing strategy, selling, and customer service and satisfaction.
Advantages
With a drop-shipping strategy, you don't have to manage inventory, or calculate or forecast product movement. You simply pay for product as it's ordered. Drop-shipping also allows you to sell an extensive product offering without paying for more inventory, labor, or warehouse space.
This strategy is the best way to test new products before investing in a product line and buying in bulk. Drop-shipping also requires low overhead costs. Since you pay when a sale is placed, you avoid a few key operational expenses.
Also, because you don't have to order and store your own inventory, you only have to pay for product once, when it's shipped to the customer. Letting a drop-shipper manage your order fulfillment frees you up to focus on sales, marketing, and customer satisfaction—some founders' favorite facets of business.
Disadvantages
A drop-shipping strategy allows you absolutely no control over packaging and shipping. Your drop-shipping partner will manage all of the handling and shipping of your inventory, while you have to manage customer service and satisfaction. So working with a drop-shipper requires a lot of communication and trust. You'll also have a narrower profit margin when drop-shipping, because you're essentially paying for a middleman. Sure, this middleman may take care of a lot for you, but you're still paying for them.
This strategy is also not available for all products, especially if you customize or make your products at home. It's also hard to establish a brand when drop-shipping your products. Because they're essentially owned (and packaged) by someone else, your products won't reflect a uniquely branded business.
A drop-shipping strategy is commonly used by ecommerce businesses that…
don't want or can't afford to purchase, store, and manage their own inventory;
market and sell large products (like furniture or appliances) that would be too expensive to store and ship twice;
are startups that don't yet want to invest in inventory and are testing product success;
are just a side hustle or second business, not a full-time gig.
Third-Party Fulfillment
Third-party fulfillment, referred to as 3PL (for third-party logistics), is when you purchase (or make) and own your inventory, but your fulfillment partner stores and manages it for you. And when a customer places an order, the 3PL will pick, pack, and ship it.
This option is often the most costly, but is considered worth it by businesses who prefer not to have a hand in order fulfillment. Unlike with drop-shipping, where the drop-shipper manufacturers, fulfills and ships the product, with 3PL, you create and/or purchase your own product from a manufacturer, but use a third-party to ship them to your customers. You can either send your products to your 3PL partner or ship them directly from your manufacturer, where they take care of all fulfillment operations for you.
Advantages
Working with a 3PL frees you up for business-building activities, such as digital marketing, customer converting and retention, and financing and accounting measures. Even when completely outsourcing fulfillment, you still have a handle on inventory and numbers. Often 3PL partners will provide a synced inventory software so you have a live view of your product's movement.
Your 3PL can be also be a good business partner. They often have good contacts and can help tremendously with packaging and shipping costs.
Disadvantages
With a third-party fulfillment partner, you still have no control over how your products are packaged and shipped, meaning low quality control. This strategy also requires a lot of communication and trust between you and your 3PL partner.
A third-party fulfillment strategy is commonly used by ecommerce businesses that…
want to focus on acquisition instead of inventory and shipping;
sell a unique product but don't want to self-fulfill orders.
Get a FREE Lesson from Our Course: Ecommerce Masters! Learn the FASTEST Path to a Million-Dollar Store
What's Best For Your Ecommerce Business? Next Steps to Help You Decide
Let's dig a little deeper into each ecommerce order fulfillment strategy.
When does a direct fulfillment strategy make sense? Well, if your ecommerce business meticulously handcrafts custom luxury handbags like 1 Atelier, you probably can't send boxes of your product to a third-party fulfillment partner. And you definitely can't drop-ship.
If you think a direct fulfillment makes the most sense for your business, you'll need to understand the implications of setting up this strategy. Besides preparing for time and energy investments, here are some potential costs you'll face:
Space. If you don't have space in your home, you'll need to rent warehouse space. This could be a self-storage space or retail rental. Either way, check into the cost per square foot. You'll also need to consider the length of your lease and whether or not you'll be scaling (or shutting down) before it ends.
Operational expenses. Depending on the size of your operation, you may need to consider pallets, forklifts, loading docks, and more.
Software. You'll need something other than pencil and paper to track your inventory. Software like ShipHero and AfterShip integrate with your ecommerce storefront, provide great shipping discounts, and even alert your customers of tracking information and more.
Workforce. Will you need help moving inventory as it's purchased? Take into account bringing others onboard, and the potential for needing more help during the holidays.
• • •
Next, when should drop-shipping come into play?
Picture this: You're a popular social media influencer known for your travel and lifestyle brand. You've curated a massive following between your social networks, blog, and guest posts on popular websites. You want to further supplement your income by creating a line of apparel and accessories with your brand on them.
Would you go out, purchase apparel in bulk, and try to sell the pieces one by one? Probably not. You'd want to partner with a drop-shipper to create and offer your products, effectively testing whether or not your audience is interested. If they order stuff, great. If not, you're not out anything—besides time.
If I were a popular social media influencer known for my travel and lifestyle brand (a gal can only wish…), I'd use a drop-shipping partner like Printful. Order fulfillment companies like Printful simply require you to upload designs and apparel preferences, and they literally do the rest.
Note: Printful is unique here because drop-shippers typically don't customize and create products for ecommerce businesses. They just take care of the order and fulfillment. Guys like Printful can create a product with a limited amount of customization, but nothing too elaborate and nothing custom from scratch. That's why 1 Atelier chose a self-fulfillment method for their handmade products and why other e-commerce businesses hire specific manufacturers to make their product. But, if you are looking to add your branding or unique design to apparel items and dropship them, this is a way to stand out a bit from the competition without manufacturing your product from scratch.
The same "testing" tactic can be used by existing companies, too. Say your ecommerce business is already successful in the athletic shoe niche. You self-fulfill your own product.
Next year, you want to test the effectiveness of your brand with footballs and basketballs, because you think your target market would respond well to an extended product line. Would you invest in pallets of new inventory and integrate that into your warehouse? Not until you knew it worked.
Drop-shipping can help you do test a new product line. While it's more costly, it reduces the risk and allows your business to remain agile while trying out a new product. It also allows you to immediately launch your new product, instead of waiting for new inventory and warehousing.
How can you find the right drop-shipping partner? First, look up the top stores that operate within your niche or target niche. Using the example from above, Google the top ecommerce stores that sell sporting goods.
Next, work backwards to find the manufacturer. Conduct a (potentially complicated) Google search to find the manufacturer of these products. The goal here is to contact the sales team for the manufacturer. Once you do, try to avoid immediately discussing drop-shipping. These poor salesman receive a ton of unique drop-shipping requests a day, all of which they cannot meet. Showing interest in their product line and attempting to build a relationship first can help your case in the future.
If you mention wanting to test product with a temporary drop-ship period, they'll likely agree to that, as well as transitioning into fully drop-shipping in the future. If they outright refuse, ask for information about their distributors. Follow the same process with these folks.
Once you've found a few drop-shipping partners, make sure you understand: 1) the selection of available products and minimum selling price, 2) the per-item drop-ship fee, and 3) the minimum monthly order. Also, evaluate these things before moving forward:
Quality of technology. How does the drop-shipper receive and process orders? How do they organize and update inventory? This kind of stuff will make or break you and your customer's experience.
Location. This will impact how and when your customers receive their items.
Customer support. You will be the drop-shipper's customer, so make sure you're taken care of, too!
• • •
Lastly, when should an ecommerce business jump into a third-party fulfillment strategy?
There are a lot of examples I could provide or imagine to illustrate the 3PL process. Instead, I'm going to discuss a popular 3PL that you've probably tapped into yourself: Fulfillment by Amazon (FBA). One of the most advanced fulfillment networks in the world, FBA is a classic example of a third-party fulfillment service. Not only does it allow you to tap into the ecommerce giant that is Amazon, but it welcomes your products to the Prime Two-Day Shipping Club. Pretty sweet, if you ask me.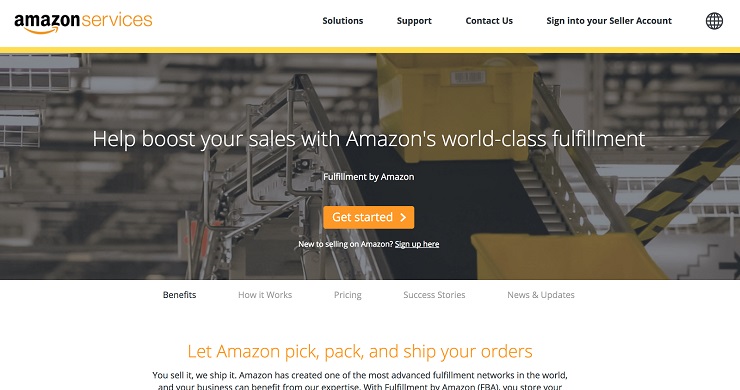 There's also another specific situation in which third-party fulfillment partners come in handy: Kickstarter.
Tons of baby business throw themselves out there on Kickstarter and Indiegogo and give little thought (if any) as to how they'll fulfill all the orders they hope to get. Learning about the different warehousing, operational, and labor options can be overwhelming. That's why third-party fulfillment comes in handy for ecommerce businesses that start by crowdfunding.
Thankfully, there are a lot of third-party fulfillment companies designed to help startups manage their inventory and fulfill their orders. While the cost of each might vary, all 3PL's typically have the same fees to cover operations:
Receiving. These literally cover the cost of opening and inventorying your product. They can be billed by the hour, pallet, product, or just a flat fee.
Storage. Typically, this is the most expensive portion, based on available warehouse space and/or time of year.
Picking. Depending on the size of the warehouse, this could fee a flat fee or charge for labor if your product takes a while to find and handle.
Packing. Some warehouses bundle this with the picking fees, while others charge additional fees for materials and labor. Make sure to ask your 3PL if you can send your own packaging materials—sometimes that's a cheaper option.
Shipping. You may pay these fees, but they'll be significantly lower than anything you could achieve on your own. 3PL's will pass along shipping cost savings to your operation.
As you narrow down possible third-party fulfillment partners, make sure you understand everything about their operation. 3PL's can be very expensive, but this cost may be worth it if it frees you up to grow your business. Check out this handy fulfillment questionnaire created by Red Stag Fulfillment. Once you get these questions answered, you should be able to readily evaluate each third-party fulfillment option.
Get a FREE Lesson from Our Course: Ecommerce Masters! Learn the FASTEST Path to a Million-Dollar Store
Which Order Fulfillment Strategy is Right For You?
Still not sure which model is best for your business? Take a hard look at your ecommerce business by answering the below questions honestly. Your answers will put you in the right mindset for making your decision.
What are your size and scaling goals? Where do you want to be in five years? (My apologies for the job interview-like questions.)
What type of product do you sell? What are all the associated costs, like production, shipping, design, and packaging?
What are your preferences for customer interaction? Do you want to use order fulfillment as a means of connecting and impressing your customers? Or do you simply want to get your product to their doorstep?
What are your general brand-building goals? How far do you want to extend your brand—just through your website and marketing? Or all the way to the hands of your customers?
What's your overall budget? What can you afford? What contacts might you have that could mitigate the cost of order fulfillment?
The right order fulfillment solution for your business is going to depend on what you're selling, what you can afford, where you are today, and how you'd like to scale. Understand these components, and you'll have "order fulfillment" crossed off your to-do list in no time.
Have you had any experiences with these options, good or bad? Any roadblocks you're running into? Share with us in the comments below!