Mindvalley has become the largest personal growth company in the world, and one of our biggest engines for growth is YouTube. We're now up to well over a million subscribers, and the platform helped us boost organic traffic to our site.
This was not always the case. Until, that is, we figured out our "secret" method.
We perfected this method with Mindvalley's YouTube channel, taking our 125,000 subscribers (built over eight years) and almost tripling that in under six months to a whopping total of 360,000 subscribers. Put down your calculators—that's a 188% semi-annual growth rate.
If you're imagining what it would do for your business if you tripled your own YouTube subscribers in just six months, well, for us it was a game-changer. So much so that now we're using this method—a unique combination of keywords, tags, and content optimization—to replicate our success with two more Mindvalley YouTube channels.
Interested in hearing how we did it?
Luckily for you, I'm ready to break this secret wide open! OK, so really I just asked our team and they are fine with me sharing. But still!
The following is an exact breakdown of how we dramatically expanded Mindvalley's YouTube subscriber base—and how you can do the very same with your business.
EXCLUSIVE FREE TRAINING: Successful Founders Teach You How to Start and Grow an Online Business
How to Get Subscribers on YouTube: What it Means to 'Rank'
Some people think of YouTube as a weird corner of the internet filled with oddities like cats playing piano or babies singing "Despacito." And I suppose they aren't wrong.
But when we think of YouTube, we see an avenue to reach an enormous audience.
With close to 2 billion registered users and over 1 billion hours of content viewed daily, it is a really busy highway of information. And with all that traffic it can be difficult to get your content to your target audience.
Another way to think of YouTube is as a search engine. In fact, YouTube is the second-largest search engine after Google. And because it's the same company, ranking on YouTube is similar to ranking on Google. The initial goal with Google is to get your keyword-oriented content on the first page, where your audience can easily find you.
However, YouTube's equivalent to Google's "first page" is the side-panel list of suggested "Up Next" videos. This is how people find you and your videos.
Search Engine Optimization (SEO) techniques can deliver your YouTube content to your target audience—and with a little "secret-sauce," your videos will dominate their Up Next section.
The magic formula simply boils down to this:
Content That Adds Value + Tags + Optimization = Subscribers
How To Optimize YouTube Tags
Think of YouTube tags as SEO keywords—they direct searchers to the most relevant content.
At Mindvalley, we used three tools to find high-volume, relevant keywords to function as YouTube tags: Keywords Everywhere, Google Trends, and VidIQ. By combining these tools, our team created a list of super-potent tags, and with a little organization, these tags put Mindvalley's videos consistently higher in the "Up Next" section.
We used two main criteria for choosing tags:
How relevant they are according to the content of the video, so we get more quality views and people who actually care about it.
Search volume, so we can target people who actually look for it. Search volume is quite tricky, though, because keyword research tools are not (yet) super exact. This is why we use multiple tools.
1. Keywords Everywhere
Keywords Everywhere is a Chrome extension that estimates the monthly search volume and cost-per-click for any keyword. It is compatible with both Google and YouTube. This information is displayed (conveniently) within the drop down menu of the search bars.
Our team entered search terms into Keywords Everywhere, such as "learning" and "biohacking," and created a list of high-volume keywords to add as potential tags to our YouTube videos.
You can also find related search terms to any specific keyword, "Jim Kwik" for example.
2. Google Trends
Like Keywords Everywhere, Google Trends tracks information regarding searches. We used it to find additional high-volume search terms and phrases.
After searching the same keyword, "Jim Kwik," we then looked at the "Related Queries" section and compared it to the list of keywords from Keywords Everywhere.
Here we see using Keywords Everywhere and Google Trends that "jim kwik book" and "jim kwik podcast" are both top searches.
Next, we shifted our focus from a general "Web Search" to a specific "YouTube Search." This is accomplished with a few clicks of the "Web Search" pull-down bar.
Looking at the "Related Queries" in this section shows us which keywords have high volume and are specific to YouTube searches.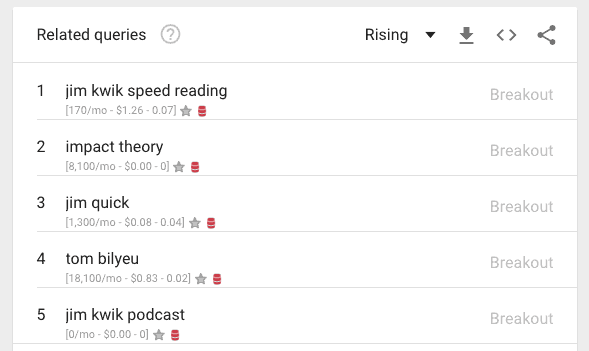 Related queries to "Jim Kwik" on the YouTube Search section of Google Trends
3) VidIQ
Once we gathered a list of potential YouTube tags from Keywords Everywhere and Google Trends, we wrapped up the research process with VidIQ.
We started with the free version of VidIQ, which was very effective. However, as our viewer volume increased, the paid version proved to be more convenient.
VidIQ (another Chrome extension) adds an information bar to videos on YouTube. This information bar contains data about the video—including a list of tags.
When we first began optimizing YouTube tags (in late 2017), none of the suggested "Up Next" videos were from Mindvalley.
So, we took the top five videos in the "Up Next" section (which were typically uploaded by our competition) and used VidIQ to see every tag being used, paying attention to the tags that were related to the video in question.
In other words, we identified which tags were being used to pull the Mindvalley audience away from Mindvalley videos.
Putting It All Together: Optimizing Video Tags
At this point, we had collected an extremely thorough list of possible, effective tags for each video. But in order to create relevant and optimized YouTube videos, we had to do three additional things:
Choose a "ruling" keyword, or main keyword, for each video
Choose content-specific keywords that pertain to the focus of individual videos
Choose a mixture of interrelated keywords that pertain to all of Mindvalley's videos
The result was a lengthy list of prioritized keywords from which we could choose the best ones and add them as tags to each of Mindvalley's videos.
Mindvalley's video tag list for every optimized video is longer than most companies use for YouTube videos.
We repeated this process and applied these optimized tags to each of Mindvalley's highest-performing videos. We learned that grouping five or six videos under a group of tags that linked each video to the next would increase the likelihood of those videos ranking higher in the "Up Next" section (rather than another video with related tags).
Grouping our videos, each with overlapping tags (i.e., success, business, inspiration) that had been optimized with SEO research, was a major contributing factor in how we expanded Mindvalley's YouTube subscriber base by 188% in six months.
But we didn't stop there. Yes, there's more.
EXCLUSIVE FREE TRAINING: Successful Founders Teach You How to Start and Grow an Online Business
4 Ways To Optimize YouTube Content
Optimizing the tags was only 20% of the process that drove 80% of the results. With the tagging process behind us, our next step was to comprehensively optimize Mindvalley's YouTube videos. These four tactics helped us put the (delicious) icing on our optimization cake.
1. Optimizing Video Content
Needless to say (but I'll do it anyway), having engaging video content is a definite prerequisite to the optimization process. If your videos aren't captivating to begin with, no amount of optimization can overcome that.
Mindvalley's highest performing videos were already engaging, with over 500,000 views and with viewers watching the entire video (before optimization). YouTube takes notice when people watch videos in their entirety, and starts to recommend them.
After we optimized, many of Mindvalley's videos had views in the millions.
Our team created a simple set of rules to create highly engaging videos:
Length: 8 to 10 minutes
Energy: Change it up every 10 seconds, through movement, shift of scene, etc.
Purpose: Make an interesting point every 30-60 seconds
Here is an example of this below. Notice how there are interesting points mentioned continuously to capture interest, and some kind of movement at least every 10 seconds, whether that's new text animations, camera angle, or other visuals.
5 Daily Rituals From Vishen Lakhiani To Show Up As Your Best Self Every Day
2. Upgrading Titles
We are currently in the process of analyzing our existing titles to find room for improvement.
Our general guidelines for creating titles are that:
They are catchy and attention grabbing
They include the main keyword
They communicate value for the viewer
Coschedule has a "headline analyzer" that we use to get feedback on every title of our YouTube videos.
This tool helps us write compelling headlines that drive more search results and get us higher clickthrough rates. We always want our audience to think "how?"
A few titles we have experimented with are:
There Is No Such Thing As A Good Or Bad Memory | Jim Kwik
The Lie Behind Working Hard For Success | Vishen Lakhiani
5 Daily Rituals From Vishen Lakhiani To Show Up As Your Best Self Every Day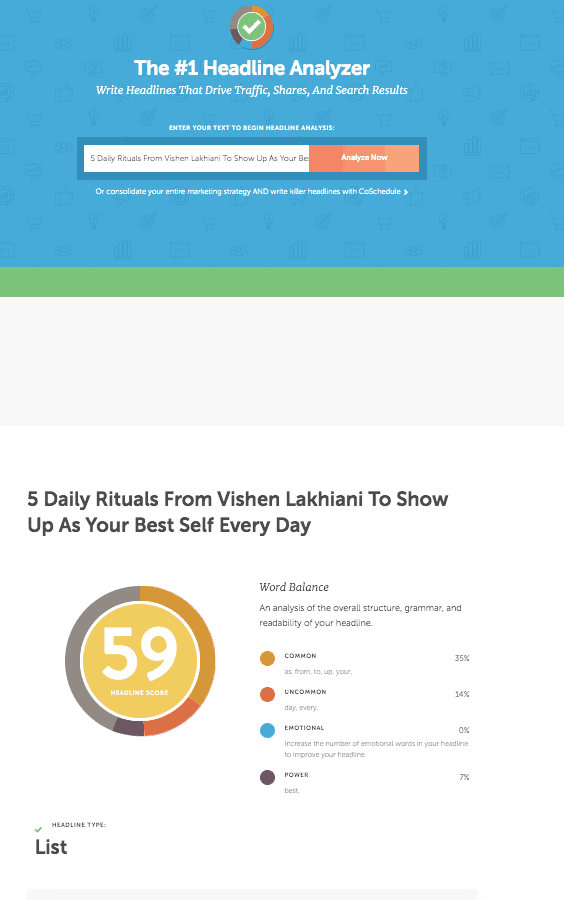 3. Leveraging the Description Section
The description section is another place we use our keyword research—here we added many of the same search terms that we used to optimize the video tags.
Along with an engaging and substantive summary of the video, we included links to related Mindvalley videos and CTA (Call-To-Action) links to drive traffic toward the landing pages for Mindvalley products and services.
Our guidelines for the descriptions are:
Have a catchy summary of the video (without giving away too much)
Include content from the video
Add timestamps to improve our UX
Add ONE link to a relevant product, and if you are focused on getting subscribers faster you can add one link to a related video so people stay in your channel.
Here is an example of one of our optimized descriptions:
4. Interacting With Viewers
Active participation with the audience in the comments section is another criteria YouTube notices when recommending videos. However, this is the most difficult tactic—it is incredibly time-consuming to keep up with tens of thousands of comments.
Our guidelines for interacting with our viewers are a little more relaxed:
Respond to popular comments (when possible)
Pin comments at the top of the comment section, which can draw the viewer's attention and inspire them to take action and leave a comment of their own
Taking It Further: YouTube's Live Streaming Feature
Since we started increasing our engagement efforts, we noticed an increase in new unique commenters and community members present on all our videos. That's a win on its own, but we wanted to connect with this growing community in a different, more immediate way.
Mindvalley geniuses Ahmed El Sanhoury (head of partnerships) and May Li Leow (senior YouTube specialist) found the perfect approach—going live.
Regardless of what type of business or personal brand you are running, YouTube's live streaming feature is an incredibly powerful strategy to captivate your audience, communicate your messages to them, and build a loyal subscriber base.
Why?
Well for one, a live video has three times the average watch duration, effectively tripling the amount of content consumed by an audience member. With live streaming, you get to be more spontaneous if you're addressing your audience. It's a personal, yet creative, approach. Live videos also provide live interactions. And with more interaction comes more engagement, giving your audience more reasons to say "yes" to one of your services or products.
Even if a viewer missed the livestream, the "chat replay" feature allows viewers to replay the stream and view the comments during the content as if it were live.
Source
YouTube Live fosters a stronger connection between you and your audience. YouTube auto-captions live streams (which is huge for your SEO and search suggestion rankings), and you can add location tags for mobile to target specific live-feed consuming audiences in a certain geographical region.
Any effort you make to communicate with your subscribers stays immortalized, increasing the trustworthiness of your brand. Whether you were helpful with a response in the chat, shared a link, or even if you just gave a shoutout on the video.
In short, YouTube Live is a bridge between brands and fans. It is an integral part of any YouTube strategy. After all, what is a brand without the hearts of its captivated audiences?
Mindvalley has been running live streams with outstanding results. If you have an audience-centric approach, you will have amazing success.
Mindvalley's Results From Leveraging YouTube Live
We all saw the massive popularity of lo-fi, live-streaming music channels on YouTube—the constant recommendations for "study-relax-focus" live videos with looped gifs and/or visualizers.
That was our inspiration to experiment with this; if they could go viral, so could we.
When we started going live, we found that our "traditional" methods of content creation isolated a segment of our audience who prefer to consume content in a certain way—live.
By creating a unique social experience, we could leverage YouTube Live to really engage with a segment of our audience we were previously ignoring.
Our first live content was a high-quality, looping three-hour animation coupled with one of our relaxation tracks that worked well for meditation. In those three hours, we talked directly to our audience, gave advice, received feedback and a TON of love.

Check out the live comment stream on the right.
Check out all of our kickass YouTube Live sessions here:
Another powerful feature that YouTube offers with live streaming is called "scheduled live." It is a notification/countdown timer that we use to create anticipation and increase the number of viewers waiting to watch our live stream.
Within six months of using YouTube Live, our live videos were receiving over 10,000 views in the first few hours. We now stream pre-produced content and custom-made guided meditations, all the while applying content and tag optimization to generate leads via in-chat social selling.
These videos stay up after the live streams are over and are available as regular YouTube video replays—along with the conversations that happened in the chat the first time the video aired.
Many businesses find success online in generating leads by applying the concept of social selling in many different ways. Perhaps the most integrated and automated form of it is in "chat bots" and the role they currently play in driving interested prospects down the funnel.
Social selling involves engaging with a warmed up viewer or prospect who has left a public comment on a piece of content (in this example, a live stream) and nurturing them to provide additional information or visit a landing page.
How Mindvalley Measures YouTube Success
We measure the success of our YouTube channel against three primary metrics:
Up Next
Watch time
Subscribers
We aim to have as many of our videos show up in the top spot of the "Up Next" list as possible. This is the Holy Grail, and our ability to consistently get Mindvalley videos in the first "Up Next" spot is our main measure of success.
Watch time is our other major metric. YouTube remembers if viewers are watching for six minutes or more, and this increases the likelihood of YouTube recommending our video.
Finally, our subscriber base is an indication of our ability to engage with potential customers. It can take up to 40 micro-engagements to convert a viewer into a customer, and YouTube delivers many of those micro-engagements for us—whether that's a view, a "thumbs-up," a comment, or a click on one of our calls to action.
We don't aggressively push CTAs and products on YouTube. Rather, we use YouTube to increase the amount of engagement we can give and receive from our audience. However, we do provide plenty of CTAs to ensure our audience always has a chance to move forward in the sales process and learn more about Mindvalley if they are interested.
EXCLUSIVE FREE TRAINING: Successful Founders Teach You How to Start and Grow an Online Business
Condensing the YouTube Mindvalley Method
So that's quite a bit of information. Let's distill all of that into four easy steps:
Step 1: Do your keyword research (Keywords Everywhere, Google Trends, VidIQ and Ahrefs)
Step 2: Create and apply a list of keywords that fit your content
Step 3: Optimize your content
Upgrade your videos
Upgrade your titles (using Coschedule's Headline Analyzer)
Maximize your reach by optimizing the description section
Interact with your audience as much as possible
To go the extra mile, try live streaming
Step 4: Let the views, subscribers, and sales roll in!
Whether you are just starting your business or looking to take your well-established enterprise into the spotlight, this method delivers results.
We believe in it so much, we are using these very strategies to grow and scale two more YouTube channels—one is our Mindvalley Talks YouTube Channel (like TED for personal growth) and Vishen Lakhiani's YouTube Channel, for the founder of Mindvalley.
And there you have it. The secret has been unveiled! What are you waiting for?
Do you have any questions about how we scaled our YouTube channel? Let us know in the comments.