Instagram is primarily a visual social network, right? Yes and no. While your images and videos help snag your audience's attention, it's your copy that encourages them to engage. And on social media, engagement is the bridge that leads to conversion and sales.
How to Write Instagram Copy
As of April 2018, Instagram is the third most popular social media site in the world. With 800 million users, it's not far behind Facebook and YouTube. So why isn't there more conversation around copywriting strategy for this specific network?
For one, most people view Instagram as an app for primarily sharing photos, like Pinterest. While this is true (Instagram is all about the "gram"), the words you use on Instagram are just as important.
Well-written Instagram copy changes the experience from observation to engagement. It's one thing to quickly scroll by and look at images shared by our peers and favorite brands, but it's quite another to read captions and bios and better understand what we're looking at. Instagram may be a highly visual network, but words make the difference between following and participating.
Your Instagram copy is also an extension of your brand, communicated with a distinct tone of voice. It should be treated with the same care as content on billboards, in radio ads, or on websites, with each platform requiring a unique style. When writing your Instagram posts, that style can be shaped in a few different ways, which we'll explore below.
Is your Instagram copy engaging your audience, or is it just an afterthought? Let's dive in.
How to Write Compelling Instagram Copy
So, we've determined that words matter just as much (if not more) than photos on Instagram. But what specific words are we referring to? Well, excellent Instagram copy is important in both your Instagram bio and in your captions.
Each location plays a specific role in engaging your audience, and has its own best practices for maximum impact among your followers. Let's dive into how you can optimize each section with stellar copywriting.
Creating Great Instagram Bios
The 10 or so words you include in your Instagram bio may be the most important words you ever write on Instagram (no pressure…).
Your Instagram bio is often your audience's first impression of your brand. Think of it this way: If you were given 30 seconds to introduce yourself as a company, employer, or brand, your Instagram bio is ideally what you'd say with that time.
Your Instagram bio exists to both inform and engage. Those are two pretty different goals that you're aiming to meet via one very short piece of content. That's right—your Instagram bio is a mere 150 characters. (That's about the length of the previous two sentences.)
So how do you do it?
Ingredients of a Great Instagram Bio
Even though your Instagram bio is super important, it doesn't have to be difficult to write. A great way to approach the writing process is to first simply define your business. What would you tell someone who had no idea what you do? Start there.
Next, see where you can add keywords. While keywords aren't searchable in Instagram profiles (meaning that people can't search for terms and find your profile), they'll still speak to your industry and niche and connect with your audience, which is the ultimate goal of your bio. Remember, your time and space are limited here.
Brainstorm a few key terms that people might be looking for in relation to your brand, products, or industry. Add these to your bio where relevant. Using Foundr as an example, you'll see words like epic instead of awesome and the word startup, knowing that our audience responds positively to terms like these.
Notice that in our bio, we also added Building a business is hard. This sentence helps us connect with our audience, by showing that we recognize their pain points and can relate wholeheartedly.
Finally, when writing your Instagram bio, don't forget to show your human side. Social media is an excellent way for businesses to be personable and relatable. Skip the corporate jargon and opt for a warmer, friendlier, more down-to-earth introduction to your brand.
Want More Instagram Followers? Sign Up For Our Free Masterclass.
Learn How to Go From 0-500K+ Followers in 12 Months! Join our FREE Instagram Masterclass!
How to Write an Instagram Bio: 4 Best Practices
Use hashtags and handles. In March 2018, Instagram announced the ability to tag hashtags and usernames in bios, meaning that when you post a # or @, it becomes a live link right on your profile. With this new feature, brands can add relevant handles or hashtags in their bio, particularly branded tags (which can bolster your user-generated content (UGC) campaigns). You might only have a few characters to work with, but sharing relevant handles in your bio can help drive traffic to partner accounts for an ecommerce shop, podcast, or blog.
Include emojis. Emojis are a surefire way to show personality and character in your Instagram bio. Nothing says, "Hey, we're human, too!" than a brand bio that includes clever emojis. They can be used to break up the text and make your key points easier on the eyes. Emojis also help you save room by taking up less space in your character limit. For example, instead of saying "Click here," you could post a pointing finger emoji instead. The possibilities are endless.
Show credibility. Your Instagram bio is also a great place to establish credibility within your industry or with those who are unfamiliar with your brand. While we don't encourage blatant sales tactics ("Don't miss out..!" or "World's best!"), there's something valuable to mentioning how long you've been in business or how many happy customers you've served.
Keep it simple. For one, you've only got a few words to work with, so you can't quite afford to include a long-winded explanation. But more importantly, simplicity is the key to grabbing (and keeping) attention. Social media is a fast-paced game, so you've got to grab your audience's interest when you can.
Whew. That's a lot of advice for a short, 150-character piece of copy. But once you start drafting a few variations for your Instagram bio, the writing process with come easier to you. Better yet, you can always change it up based on current events, trends, marketing campaigns, or even sales. The world (of your Instagram bio) is your oyster!
Creating Great Instagram Captions
The purpose of an Instagram caption goes far beyond simply describing whatever image it's posted beneath. It's the key to engaging your audience, encouraging a like, comment, or conversion, and possibly landing on the Instagram Explore page.
Based on Instagram's algorithm, posts that draw more activity are perceived to be valuable, interesting content and are therefore seen more and promoted beyond your feed. Your Instagram caption is the key to inviting that activity.
Instagram captions also hold crucial facts and figures, such as image details, hashtags, influencer or user handles, keywords, and further information about how to visit a website, join a list, download a book, or purchase an item. They're also the prime spot for calls-to-action, such as click link in bio, like if you agree, tag a friend, let us know in the comments, etc. You should always include a CTA in some form in your captions.
All in all, writing Instagram captions is an important part of your overall Instagram marketing campaign when your aim is to engage your audience in new and exciting ways.
Ingredients of a Great Instagram Caption
So, you've uploaded a killer photo or video and now you're tasked with coming up with a perfect Instagram caption. What do you say?
Blink. Blink. Head scratch.
First, let's back up and define your brand's overall Instagram voice. Like we said above, it should be the same voice you use in other copywriting (your website, print ads, etc.), but it should also carry a distinct tone specific to Instagram.
Start with your target audience. We've written tons of content on how to research your target audience and use your findings to inspire your marketing strategy. But what works on one platform may not work on others, so be patient with your strategy as you decipher what works best.
Take a look at your general research. What is your target audience persona? Are they young or old? Professional or casual? What are their hobbies, habits, and goals? What kinds of publications, TV channels, and social media accounts do they read, watch, and follow? Begin here when deciding on your overall Instagram brand voice.
At Foundr, we know that our audience is mostly young to middle-aged professionals who own or want to own their own business. They appreciate motivational, inspirational, and encouraging content that's relevant in the business and entrepreneurship vertical.
They're also busy people looking for quick, succinct advice, which is why most of Foundr's captions are short and sweet. In a style that matches our Instagram content (mostly quotes and sayings), our catchy captions provide a short quip of motivation communicated in a casual, candid tone. Our brand voice mirrors that of our website and other content, but it's shorter for maximum impact on Instagram. That's what we've found resonates best with our followers.
That said, Instagram captions can be quite long (up to 2200 characters!). They can be short, serious, funny, and everything in between; what matters most is whether your audience finds it engaging.
Once you determine your voice and what kind of content connects with your audience, then you can return to your specific image. From this point forward, the caption-writing process will depend on what image or video you're posting. But don't simply describe the image in your caption. (Boooring!)
Instead, use your Instagram descriptions to provide context, add personality, and encourage your followers to take action. This could be a fun spot to try out some new copywriting techniques, or even test out a pun or a joke. You can get away with a lot more on Instagram than you could in, say, a catalog.
Captions are also a great spot for asking questions and communicating with your audience. Posting a question or two can engage your audience and start a conversation around your image, brand, or product line. It also gives you a chance, as a brand, to show your human side and answer your own question, too.
In fact, I'd say when stumped, a question for your followers is a solid go-to option.
Asking a question is merely one way to engage your audience through a call-to-action. Always (always!) include a call-to-action in your Instagram caption, whether you're asking for a tag or encouraging people to visit your website to shop.
We recommend the Gary Vee method of "jab, jab, jab, right hook," or sprinkling the big asks sparingly. But Instagram post copy is your opportunity to expand engagement beyond a simple "like." Use strong action words like "start," "shop," "join," "learn," and "discover" to grab your followers' attention and inspire them to act. (Note that at this time, Instagram doesn't offer live links in comments, but there are workarounds like referring to your bio link or posting a short URL that your followers can simply retype.)
How to Write Instagram Captions: 3 Best Practices
Put your most important information first. After three or four lines of text, Instagram shortens captions to make it easier to scroll through your feed. Because of this, it's best to put your most crucial information first, like calls-to-action, new blog post updates, or relevant tags. Ideally, your followers will click "More…" to expand and read your entire caption, but let's not assume that's the case every time.
Keep your caption clean. Some users dump all sorts of emojis, hashtags, and links in their bios, making it super hard to read on a small screen. For the purpose of engagement and providing your followers with a good experience, try to keep your caption "clean" and easy to read. If you're posting a long caption, use proper sentences and spacing. If you're sharing hashtags or links, place them at the end away from the bulk of the content. Remember: You can always edit your captions after posting if you find they're hard to read.
Tag handles and hashtags. Don't forget to tag relevant hashtags and user handles! Hashtags are game changers for your Instagram engagement and help new audiences discover your posts. You can post up to 30 hashtags, but since they can hurt the readability of your captions, we encourage you to either post them underneath your main caption or within the first comment. As for user mentions, add those within your caption where they make sense, whether within a sentence or at the end of the post. Tagging other users is a great way to attribute content and connect with your audience.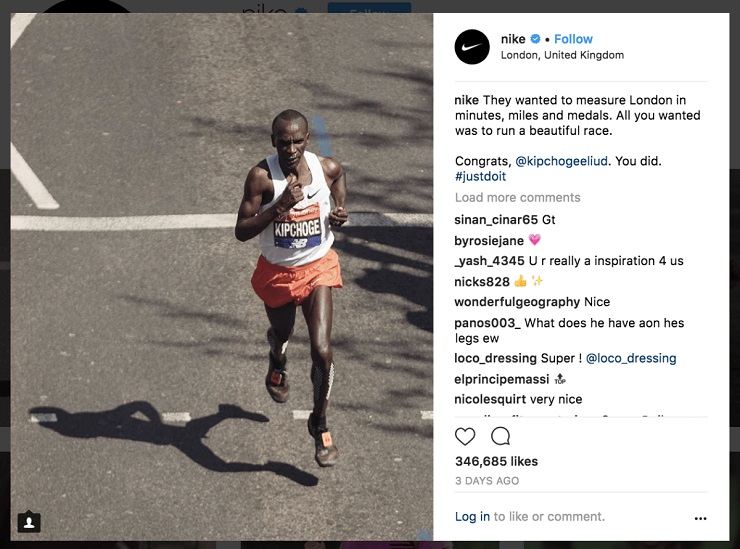 Want More Instagram Followers? Sign Up For Our Free Masterclass.
Learn How to Go From 0-500K+ Followers in 12 Months! Join our FREE Instagram Masterclass!
Instagram is More Than Images—Make Your Copy Shine!
Instagram may be a visual platform, but copy also plays an important role. In fact, Instagram copy is the key to driving real engagement and conversions. Your Instagram bio and captions give context to your content, show your personality as a brand, and encourage your audience to take action.
Instagram is a fluid network, and your Instagram copy is hardly set in stone like other marketing copy. Don't be afraid to test out new techniques to see how your followers respond. When in doubt, put your audience first—they're the ones you're trying to connect and engage with.
What techniques have you found to be successful on Instagram? Anything you've seen that you love? Share with us in the comments below!