If you're an up-and-coming entrepreneur, you may have asked yourself if it's too late to use content to become a thought leader in your niche. You've likely wondered if the field's already too crowded for you to become a go-to expert and reap all the rewards that come with it—from paid speaking requests to high-ticket clients.
The good news is, it's definitely not too late to establish authority in your niche, and you can get started immediately, even if nobody knows who you are yet. Sure, certain industries might seem saturated, but there's still room at the top!
The challenge is that, yes, content channels like social media, email marketing, and webinars are all effective ways to get your name out there and convert customers. But precisely because they work, everyone is using them—both the expert with four or five decades of experience, and the total newbie who read one article on Tim Ferriss's blog.
For better or worse, our level digital playing field means expertise does not always win out over hype. Yes, you may know what you're talking about, but upstart competitors with less experience use all the same outreach tactics. How can customers tell the difference—who is the true authority here?
There's one long-term, authority-building strategy, in particular, that can send your credibility and perceived expertise flying out of the park. Wondering what this strategy could possibly be? Simple. You've probably got some near your desk.
Books.
By writing a book that speaks directly to your audience, nailing the intersection of what you know and what they want to know, you can catapult yourself to thought-leader status. I'll show you exactly how to come up with that perfect idea, and how to decide exactly what to cover in your future, authority-building book.
Want feedback on YOUR authority-building book idea? Comment below, pitch your book idea, and I'll reply and let you know how to "spin" your idea for maximum reach—and book sales.
Table of Contents
Author(ity): How Books Can Position You as a Thought Leader
My bookshelf holds books that were published 10, 25, 50-plus years ago. I even keep several books in my workspace to reference regularly as needed. You probably do, too. How many times a day do you glance at certain authors' names and book titles? Talk about top-of-mind awareness!
A book has the longest shelf life of all authority-building strategies—pun intended. Nothing else even comes close.
But what about a book's effectiveness compared to email marketing, webinars, and social media? Whether your readers buy your book or get a free copy as a lead magnet, your book is the one and only place where you display your best lessons, tactics, techniques, tips, and strategies that you've collected over your career.
Short-form content like email newsletters and social media posts don't give you near that much room to deliver quality information. A book is also the one and only place you can self-promote without coming across as self-absorbed. Do that on a webinar, and you'll quickly become the only attendee.
In short, writing a book is the one of the best ways to demonstrate your authority and become a thought leader. You get to say, "I wrote the book on my industry." What is an industry expert if not the person who says that to media-booking producers, conference organizers, and high-ticket prospects?
A book's impact on your authority isn't hypothetical; it's tangible and measurable. For example, in the past couple of years, some of my author clients have:
Used a book to build a $1,000,000 funnel
Converted so many readers into consulting clients they needed a waiting list
Exceeded book sales goals by 200% thanks to top podcast appearances
Averaged 10,000 copies sold per month
Achieved a 70X return on their investment
At this point, you're probably thinking, Okay, you've sold me on this authority-building book thing, Joshua. But how am I supposed to write a book?
Great question! Many an aspiring "authorpreneur" I meet believes that all they have to do is copy and paste a few blog posts into Word, buy a Fiverr gig to reformat the manuscript, and slap that sucker onto Amazon.
I get it—the self-publishing bar is set low. Many would-be authors believe a marketable book idea just comes naturally. This might explain why most self-published books sell fewer than a hundred copies! (Ouch…)
Your book builds authority and helps you become a thought leader only when the masses read it. So how do you make that happen?
Think of the business books you like—no, love. You keep coming back to them over and over. You've worn them ragged from flipping back to "highlight" chapters. You've turned excerpts into quotes to live by.
Got a book like that in mind? Great!
The reason that book captivated you, and still does to this day, is the author's intention: They wrote that book for you. Not for them. For you. Spot the difference?
This brings me to another mistake I see entrepreneurs and founders make when writing books. They try to stuff every lesson, tactic, technique, tip, and strategy into one manuscript. The result? Readers quit on you five pages in, fling the book across the room behind a pile of smelly gym socks, or (worst-case scenario) bemoan your ideas with a novella-length one-star review. We don't want that.
The books we cherish deliver content at the intersection of what the author could have written about and what people wanted to read. That kind of book permanently establishes your industry credibility and opens new doors of influence. It's no ego-driven fluff piece; it's a thought leadership masterpiece that converts skeptics into evangelists, readers into customers.
Well, that sounds great, Joshua, but how do I know what to write about? What do people in my industry want to read?
I'm glad you asked! Let me offer three steps to generate your authority-building book idea.
Get 70+ proven shortcuts for growth hacking any business. It's all in our new course, Growth Hacking Playbook. Click below to learn more and join our VIP waitlist to be notified when the course opens for enrollment.
Get 70+ Proven Shortcuts for Growth Hacking any Business! Click To Join Our FREE VIP Waitlist Now.
3 Steps to Come up with an Authority-Building Book Idea
Step 1: Mind Mapping
First, list everything you could write about. Imagine you have as many pages as you could ever need—no word count minimum, no maximum. You can even pen a series of books if you like.
Not a fan of endless lists without rhyme or reason? Me neither. That's why I recommend software like MindMeister to chart every topic, subtopic, example, and takeaway you could include in your book.
Let's say you're a digital marketing expert, like many of my clients. In MindMeister, you'd write your industry expertise in the first circle (digital marketing). From there, build "spokes" out of your "wheel hub." These are the categories of digital marketing, such as social media marketing, search engine optimization, content marketing, and email marketing.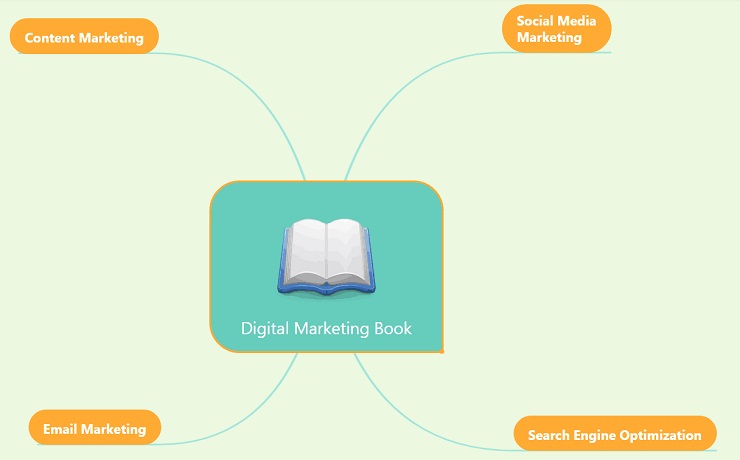 Each subtopic now becomes its own hub with more ideas branching out. As a social media marketer, you're a master Facebook advertiser, Instagram influencer marketing strategist, and LinkedIn lead generator.
On Facebook alone, you could write about campaign objectives like awareness, traffic, and conversion; targeting strategies for both custom and lookalike audiences; and ad copywriting to drive engagement, clickthroughs, and landing-page conversion. Each becomes a new spoke.
To demonstrate your copywriting expertise, you could offer three examples of digital marketing clients who, using your copy tips, achieved unparalleled ad engagement. Just like that, your copywriting spoke has become yet another hub!
The shape your MindMeister map forms is called a fractal, a geometric figure in which similar patterns recur at progressively smaller scales. If you've ever seen a snowflake up close, you've seen an example of a fractal.
Fractals are naturally occurring structures, which makes it a natural way to organize your complex thoughts into a collection of book ideas. My mind map strategy also lends itself well to a book outline, where you list topics and explore subtopics, examples, and key takeaways.
By the time you've recorded every morsel of expertise in your MindMeister map, you're going to feel overwhelmed. How could I possibly turn all of THIS into a book?! This thing would run a thousand pages, easy.
That's just it—you're not going to turn your mind map into a book outline! At least not yet. Keep your mind map handy for the second step of this process.
Savvy marketers promote products they know people already want. That's not something you're going to leave to chance. Right now, your future readers are already reading other books in your category of choice. So let's go find them and see what they have to say about books like yours!
Step 2: The Jay Abraham School of Customer Research
Let's narrow down exactly who your book is for, while also making sure you reach the broadest, most profitable audience possible—a task made easy by a classic Jay Abraham customer research tip. (Forbes calls Jay "one of the top five executive coaches in the US.")
For our digital marketing expert example, we'll Google, "amazon bestselling marketing books". The first result sends you to Amazon's marketing bestseller list. Change up this keyword based on your industry. For example, I'm ghostwriting a network marketing book right now for a network marketing multi-millionaire. The keyword we used was "amazon bestselling home based business books".
(For the complete Amazon bestseller categories list, click here, scroll down to "Categories with keyword requirements," and click "Amazon.com.")
Once you've arrived at your category's bestseller list, take Jay's advice—open a few of the books in new tabs and click customer reviews, an on-page link that appears below the book title. Check the example below.
If you're in a pinch, just check out the top four bestsellers you'll be competing against. Why only four? When you write an industry standard book proposal to get a traditional book publishing deal, acquisition editors want to see how your book idea stacks up against four perennial bestselling titles. Yes, only four!
A ghostwriting client in the reputation management industry once told me that five-star and one-star reviews are the least credible reviews. Research published in Entrepreneur and The New York Times backs him up—people view the digital wall of five-star reviews as too good to be true, while they suspect those trollish one-star ratings are fakes. But those middle-of-the-road four-, three-, and two-star reviews tend to be more thoughtful and fair—so we assume. (That's not to say you should disregard all five-star and one-star reviews. Consider this a shortcut for those of us who don't have time to read all 5,200-plus reviews of The 4-Hour Workweek!)
Step 3: Process of Elimination (and Inclusion)
Now that you've found your future readers' feedback on books like the one you plan to write, it's time to do something with that feedback. Through a process of elimination and inclusion, let your future book buyers decide what goes into your book—and what doesn't. Dig in, start reading, and see what it is your future readers like, dislike, want, and don't want in the book you're going to write for them. Scour those reviews for two types of comments:
"Hoped they would've's"
"Wish they hadn't's"
Back to our hypothetical digital marketing book idea. We've clicked on a bestseller, 500 Social Media Marketing Tips, and we've spotted these curious little neutral reviews:
Did you catch that? The reviewer hoped the book would provide Facebook advertising templates, which the author didn't. Another reviewer wished the author had offered more real-life client examples.
Copy and paste these reviewers' feedback into Word along with relevant excerpts from the remaining reviews. And yes, you want the exact words the reviewer used. The words a customer uses means more to them than anything a direct response copywriter could brainstorm.
Once we've gathered precious customer research nuggets, let's polish them—the joint elimination-inclusion process begins!
Remember the 500 Social Media Marketing Tips reviewer who wanted more real-life examples? That reviewer purchased the book assuming these examples would show up given the book's premise, hence the disappointment.
We take a peek at our mind map and confirm, sure enough, client examples make an appearance. Awesome!
Next come the text-heavy chapters complaint. That reviewer wished the author would've replaced long-winded explanations with exciting visuals and illustrations.
We go back to our MindMeister map. Hmmm…
On second thought, our book outline covers quite a bit of ground—ground which requires text-based explanation. For example, Ad Copywriting would have you writing about ad copy that inspires engagement, copy that gets clicks, and copy that drives on page conversion. That's a recipe for a lot of content without much practical application.
If we listen to the customer (and we have every reason to), we have little choice but to cut those different copywriting purposes from the mind map. Giving customers what they want means giving them their time back—time you otherwise would've made them waste reading about sections in your book they never wanted. So our updated Ad Copywriting hub teams examples up with screenshots. Gone are Engagement, Clickthroughs, and Landing Pages.
What about the ad template the other 500 Social Media Marketing Tips reviewer expected? We review our mind map and realize templates are not here—yet. Even a digital marketing newbie understands the essentials of a Facebook ad. Maybe you've even created an ad template for a client, which they used to achieve enviable results, results your future readers want to hear about! Thus, a new spoke from the main hub appears—Ad Templates.
And there we have it! An authority-building book outline that people will want to read! Follow these three steps, and the resulting mind map is somewhat like the Venn diagram below. You've determined the overlap between your book ideas and your buyers' desires. That overlap becomes the outline for your book.
To come up with a title for your book, check out my Book Title Generator, which helps you come up with potential titles that align your expertise with your future readers' interests. Thirty seconds from now, you'll have a book idea that can permanently establish your credibility in the industry AND open new doors of influence for your business!
So before you put your blood, sweat, and tears into writing a book that may sell a mere few dozen copies, open MindMeister, journey onto Amazon, and get busy. I bet you'll sell way more than a hundred copies. And in the process, you'll build your authority in your industry and become known as the only author providing fresh ideas that your readers—and customers—are willing to buy.
Get 70+ proven shortcuts for growth hacking any business. It's all in our new course, Growth Hacking Playbook. Click below to learn more and join our VIP waitlist to be notified when the course opens for enrollment.
Get 70+ Proven Shortcuts for Growth Hacking any Business! Click To Join Our FREE VIP Waitlist Now.
BONUS: Get Feedback From Me!
Want feedback on YOUR authority-building book idea? Comment below and pitch your book idea. I'll reply and let you know (a) what works, (b) what doesn't work, and (c) what new spin you can give your idea to reach the maximum number of readers—and customers!
Feedback limited to the first 20 comments.