I tried to create an online course once. Between announcing, pre-selling, and actually creating the darn thing, I had little time or energy left to sift through the best online course platforms to use. In the end, I abandoned the project altogether and never ended up launching—and I don't want that to happen to you.
There's a lot to work through when creating an online course, so the last thing you want to do is agonize over which platform to use. So I did the work for you!
I signed up for the free versions or free trials of four popular online course platforms: Teachable, Thinkific, Kajabi, and Podia. Below, I list out the features, pros and cons, and a brief overview of the signup process and dashboard for each. I also interviewed course creators about alternative course platforms and why they preferred them over the ones I included in my list.
So grab a cup of coffee, and let's go over the best online course platforms so you can FINALLY make a decision!
FREE TRAINING: How to Create a 7-Figure Course From Scratch Using Foundr's Never-Revealed "Rapid Course Formula"
Teachable
Teachable is a popular online course platform with more than 186,000 active courses earning their instructors more than $338 million in revenue so far. Almost all of the online courses I've taken (and I've taken quite a few) are hosted on Teachable, and as a student, I find the site to be intuitive and well-designed. This is also the online course platform I used when I was attempting to build my own.
Teachable's strength seems to be that it pretty much sticks to doing one thing well: online courses. Course creator Hayley Luckadoo says: "I chose Teachable because of their dedication to creating the perfect platform to host and market courses. Many other course platforms I tried were focused more on membership sites, website hosting, etc., and didn't solely focus on making their platform better for course creators."
Price: Starts at $39/month ($29/month if you pay for one year upfront)
Free trial? No, but Teachable does offer a free plan (no credit card required to sign up)!
Pricing/Plans:
Free – $0/month
Basic – $39/month
Professional – $99/month
Business – $499/month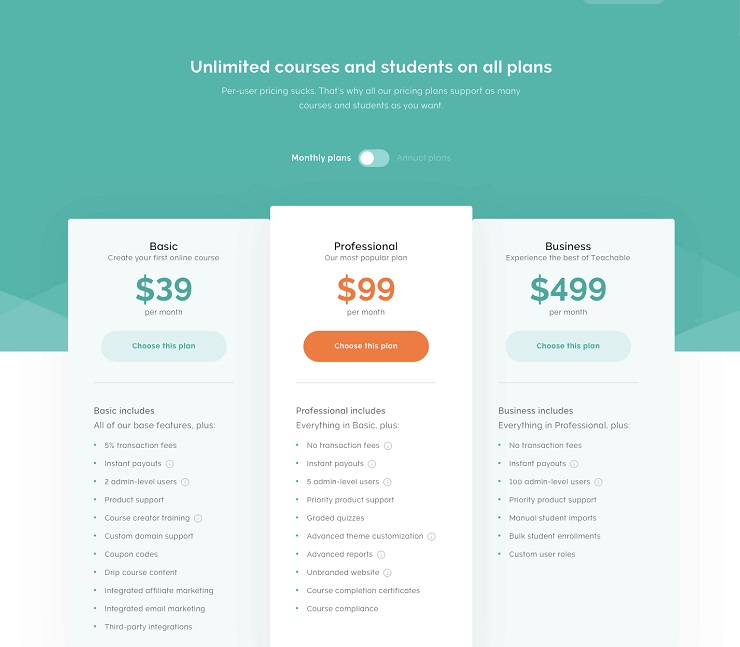 Teachable's Features
Pros
Product types: Just online courses, though there is a workaround if you want to create a membership site
Drag-and-drop website builder for your Teachable school with one theme
Customizable sales pages
Send emails to students and segments your list based on which course they're in, whether they've completed the course, and other criteria. Only available on paid plans (Basic and up).
Drip course content
Quizzes
Discussions
Coupons and promotions
Upsells
Bundle products
Offers a free plan (with a transaction fee of 10% + $1)
Option to set up a payment plan for students
Accept international payments
Accept credit cards
2048-bit SSL certificate
Customize with HTML and CSS
Allows multiple instructors
Allows you to share revenue with course contributors
Connect your own domain
Can add multiple languages to parts of your site
Issue course completion certificates
Create an affiliate program for your course
Widely used
Good user experience from the student side
Unlimited courses and students on all plans
Cons
Payouts can have a 30-day or more delay unless you sign up for Teachable Payments, which is available only to schools operating within the U.S. or Canada. Even then, it can take two business days for the money to hit your account due to Stripe's payout schedule. Also, their support site says, "Once you make your first sale on Teachable Payments, it will take 7 – 14 business days to receive your first payout. " Teachable takes a $0.25 fee from every payout to a Stripe Express account.
There is only one default theme.
Teachable's auto-responder for their support email says they're available 7 days a week 10 a.m. to 6 p.m. EST, but in my experience, they can take a few days to reply. One of my recent requests was sent on a Saturday at 11 p.m., and they got back to me that Tuesday at around 2 p.m.
Teachable's Signup Process
If you want to try Teachable's free plan, the signup process is super easy. They don't even require a credit card.
When you create your school, Teachable will ask a few questions to set up your dashboard.
Once you're in the dashboard, you'll see multiple options to get started, such as joining a live webinar or going through a tutorial on how to set up your domain name.
Though Teachable does offer to host a website for you, the theme is pretty basic. There's only one available theme, and you can customize the logo, background image, fonts, colors, and more.
If you're tech-savvy or have a developer, Teachable does have a Power Editor feature that's available on the Professional plan and up.
The free plan is (understandably) limited, and there are a few features you'll need to upgrade to a paid plan to access, such as emails and upsells.
There's a Transactions dashboard that will show reports of how many sales you've made.
Teachable's Third-Party Integrations
Google Analytics
SumoMe
Zapier
MailChimp
Segment
ConvertKit
Example of a Course That's Hosted on Teachable
Pat Flynn hosts all of his courses (free and paid) on Teachable.
Thinkific
Thinkific boasts more than 36,000 course creators who have earned over $200 million on their platform.
Price: Starts at $49/month ($39/month if you pay for one year upfront)
Free trial? Thinkific offers a free plan with NO transaction fees.
Pricing/Plans:
Free: $0/month
Basic: $49/month
Pro: $99/month
Premier: $499/month
Thinkific's Features
Pros
No transaction fees (except those charged by third-party payment processors)
Offers a free plan with no transaction fees
Product types: Online courses, membership sites, and subscriptions, though there are some workarounds if you want to sell physical products alongside your online course.
Drag-and-drop website builder with three themes to choose from
Send simple welcome emails, course completion emails, notifications, and mass user emails
Drip course content
Assignments
Quiz & survey
Create an affiliate program for your course
Customizable sales pages
Create coupons and promotions
Bundle products
Option to set up a payment plan for students
Charge in 100+ currencies
Accept credit cards
Built-in SSL certificates
Daily backups
Allows multiple instructors
Share revenue with course contributors
Connect your own domain
Customize with HTML and CSS
Students can select from multiple languages
Issue course completion certificates
Send automated course progress and reminder emails
Data reporting and segmentation
Unlimited students on all plans
Excellent support—you can actually call them!
Cons
Thinkific's Payout schedule depends on whether you choose PayPal or Stripe. Here's what Thinkific's help center says:"When a customer purchases your course, the funds are treated differently depending on the payment method used. PayPal funds are stored in your PayPal account and not paid out directly to your bank account. However, after the first Stripe transaction, revenue will transfer directly to your bank account after a purchase is made."Like Teachable, though, payouts take as little as two business days in the U.S. (this is based on Stripe's schedule, which you can learn about here).
Thinkific's free plan limits you to only three courses, but all the paid plans give you unlimited courses and students.
Thinkific's Signup Process
It was fairly easy and quick to get started on Thinkific. They don't require a credit card to sign up for their free trial. Once you enter your name and create a password, Thinkific will begin setting up your dashboard based on your needs:
Then, it'll walk you through setting up your first course.
Thinkific has ready-made course templates to make setup easy.
Courses are divided into Chapters that break down into Lessons.
Thinkific also makes it easy for you to set up a landing page for your course.
Thinkific's Third-Party Integrations
The list below is not exhaustive, as Thinkific claims it can integrate with over 1,000 external apps. Some of the integrations listed below require a Basic plan or higher.
Stripe
PayPal
Stunning
Zapier
Infusionsoft
Google Analytics
Mixpanel
Facebook Pixel
Segment.io
MailChimp
ConstantContact
ConvertKit
AWeber
ActiveCampaign
Accredible
Disqus
Sumo
Example of a Course That's Hosted on Thinkific
Hootsuite's entire Hootsuite Academy is powered by Thinkific.
FREE TRAINING: How to Create a 7-Figure Course From Scratch Using Foundr's Never-Revealed "Rapid Course Formula"
Kajabi
Kajabi is a robust, all-in-one platform for hosting online courses and much more.
Price: Starts at $149/month ($119/month if you pay for one year upfront)
Free trial? Kajabi offers a 14-day trial on all of its plans. You must enter your credit card info.
Pricing/Plans:
Basic: $149/month
Growth: $199/month
Pro: $399/month
Kajabi's Features
Pros
All-in-one platform. Host your website, sales pages, online course, membership site, email marketing, automations, and more on Kajabi.
Build and host your website on the platform. Drag-and-drop builder with 17 themes to choose from
Product types: online course, resource center, membership, community, or teaching tool
Drip course content
Built-in email marketing platform
Create Assessments
Bundle products
Create an affiliate program for your course (though you must have a plan that's higher than Basic to access this feature)
No transaction fees (besides the one charged by the third-party payment processor you choose)
They have 24/7 live chat support, but it's only available for Growth and Pro plans.
Super fast response times with email support. They got back to me within minutes on one of my tickets.
Built-in email marketing with Broadcasts, Pipelines, Automations—even has personalization!
Community building with discussions
Bulk user import
Allows multiple instructors
Landing page builder with templates
Custom forms
Create coupons
Option to set up a payment plan for students
Charge in multiple currencies
Accept credit cards
Connect your own domain
Customize with HTML and CSS
Data reporting
Tagging and segmentation
Unlimited landing pages and marketing emails on Basic and Growth. Unlimited landing pages and 2 million marketing emails on Pro.
Cons
No free plan
Starting at $149/month, Kajabi is relatively expensive compared to others on this list. But remember, it's also an all-in-one platform that offers more robust features than many online course platforms.
Kajabi integrates with PayPal and Stripe, but it was incredibly difficult to find any information about the payout schedule on their website. From other blogs, it appears that Kajabi does have "instant payouts," but because they use Stripe, that probably means it takes two business days just like the other online course platforms.
The lowest tier, Basic plan, limits you to only three products and 1,000 students. None of the plans include unlimited students.
Kajabi's Signup Process
I signed up for the 14-day free trial of Kajabi's Basic Plan. To do this, I had to enter my credit card info.
When I signed up, I was hit with this one-time offer. The auto-play video made me jump at first because my sound was on high, and I wasn't expecting it.
To start the setup, Kajabi asks you what you want to do. Remember, this is an all-in-one platform, so it does much more than host online courses.
Kajabi's dashboard is bright and clean.
In Kajabi, your course will have a Product Outline made up of Categories, Subcategories, and Posts. Like Thinkific, it has an easy drag-and-drop feature. I did, however, struggle to figure out how to add new items, until I read their help article and figured out that I was supposed to click the little blue plus signs.
When you're ready to start marketing your course, Kajabi has sales funnel creation built into its platform, which it calls "Pipelines."
Beyond Pipelines, Kajabi has other marketing features such as email automations (it's basically your own email marketing platform too!), Events, Forms (opt-in forms), and Automations (though you'll have to upgrade to a higher plan to access this feature).
It also has Offers, which allow you to bundle products, offer upsells, create coupon codes, and more.
And lastly, with 17 pre-made themes, you can build and host your website on Kajabi too.
Kajabi's Third-Party Integrations
Aweber
MailChimp
Drip
ConvertKit
ActiveCampaign
Segment
Google Analytics
Facebook Pixel
Zapier
Clickfunnels
Stripe
PayPal
Example of a Course Hosted on Kajabi
Fitness entrepreneur Cassey Ho, of the popular YouTube channel Blogilates, hosts her workshops for POP Pilates on Kajabi.
Podia
Podia (formerly known as Coach) is an online course, membership, and digital download platform with more than 20,000 creators.
Elizebeth Gidley of Beauty of Selah decided to switch from Thinkific to Podia last fall because she wanted a better design. "I had my course on Thinkific for about six months and was always disappointed when I went to my landing page and it looked incredibly dated," she says. "Plus, graphics were in the wrong place so often that my sales page looked like a broken puzzle piece."
Thanks to a helpful customer service representative, Gidley was able to make the switch to Podia in one day. "The experience was so incredible that they won my loyalty for years to come," she adds.
Price: Starts at $39/month (get two months free if you choose to pay for one year upfront)
Free trial? Podia offers a 14-day free trial and doesn't require a credit card to sign up for it!
Pricing/Plans:
Mover: $39/month
Shaker: $79/month
Podia's Features
Pros:
Product types: Membership, online course, digital download
Drag-and-drop builder for a simple storefront website. Only one theme
Drip course content
Quizzes
Create an affiliate program for your course
Easily host membership sites as well as courses
Will migrate all of your course content from your old course platform to Podia for free if you buy their Shaker plan ($79/month) or annual Mover plan
Unlimited everything. According to their sales page: "Your Podia account comes with unlimited products, customers, emails sent, sales and files hosted."
No transaction fees (except those charged by third-party payment processors)
Customizable sales pages
Create coupons
Bundle products
Create upsells
Built-in email marketing
Option to set up a payment plan for students
Charge in different currencies
Accept credit cards
128-Bit SSL encryption
Connect your own domain
Email support
Cons:
No free plan
Only two plans to choose from
Doesn't support multiple instructors on one course
Doesn't allow you to customize HTML or CSS
No reporting on student progress
The built-in email marketing platform lacks some basics, like the ability to personalize emails with a subscriber's first name (though Podia's support team tells me it's on their to-do list).
Because Podia uses Stripe, payments hit your bank account within two business days
Podia's Signup Process
I signed up for Podia's free 14-day trial. Right away, you can tell by the Podia dashboard that it brands itself entirely differently from the others in this list. Bright colors, cartoons, and playful emojis adorn its dashboard.
Creating and editing a course was pretty straightforward. You can add sections for text, quizzes, and images.
Here's one of the ways Podia really shines: It has a dedicated tab for Memberships, making it easy for you to create a subscription-based product.
For your website (Storefront), there's only one theme. But customizing it is pretty easy, and there's a drag-and-drop builder on the left.
You can also easily "drip" your course out, meaning certain parts of the course unlock only after the student has been enrolled for a certain amount of time.
Podia's Third-Party Integrations
ConvertKit
MailChimp
Drip
AWeber
ActiveCampaign
MailerLite
Zapier
Example of a Course Hosted on Podia
Business coach Becky Mollenkamp's Leverage LinkedIn course is hosted on Podia.
FREE TRAINING: How to Create a 7-Figure Course From Scratch Using Foundr's Never-Revealed "Rapid Course Formula"
Alternatives to Teachable, Thinkific, Kajabi, and Podia: Entrepreneurs Weigh in on the Best Online Course Platforms
When I was doing research for this article, I became acutely aware that just because I was familiar with the more popular online course platforms did not necessarily mean that they were the best online course platforms for everyone. I reached out to entrepreneurs who use alternatives to Teachable, Thinkific, Kajabi, and Podia to see why they think the online course platform they're using is the best.
Course Craft
Price: Starts at $29/month ($23/month if billed annually)
Free trial? No, but they do offer a free plan.
Pricing/Plans:
Free: $0/month
Club: $29/month
Society: $59/month
Business and success coach Lauren Kidd has tried Thinkific, Teachable, and Kajabi, but she decided on Course Craft for its ease of use.
"Course Craft is hands down, and all around, a great platform for all those wanting to share their information," she says. "You don't have to be a tech guru to use this platform."
It also has affordable options—a free plan and a paid plan starting at $29/month—but Kidd says Course Craft's stellar customer service is her favorite feature. "As a non-tech person, this was such a comfort knowing that if I ever had any question, they were there to help," she says.
ClickFunnels
Price: Starts at $97/month
Free trial? A 14-day free trial (requires credit card information)
Pricing/Plans:
$97/month for 20,000 visitors
$297/month for unlimited visitors
When Melissa Stephenson, COO of Flea Market Flipper, began selling online courses four years ago, she started with a WordPress plugin called WP Courseware. But after experiencing some issues, she wanted a better user experience. "We were already thinking about using ClickFunnels for a few landing pages/funnels, so we thought it could be a good use of our resources," she says, adding that the user experience on ClickFunnels has been much better than with her previous plugin.
"We also debated using Teachable since so many of our friends use it," Stephenson adds. "But we decided that ClickFunnels could be a one-stop shop for us, and we could have several landing page/funnel/membership benefits all rolled into one."
WordPress Plugins
When I talked to online entrepreneurs, one of the most popular alternatives to online course platforms seems to be hosting a course on your WordPress site and then installing plugins to manage the courses. Below, you'll hear from a few business owners who've decided to do just that, and the WordPress plugins they recommend.
MemberPress
Price: Starts at $149/year
Free trial? No, but they do offer a 14-day money-back guarantee
Pricing/Plans:
Basic: $149/year
Plus: $249/year
Pro: $349/year
Financial strategist Clarissa Wilson tried free trials of Teachable and Thinkific, plus a host of plugins, before deciding on using MemberPress and LearnDash to sell her online courses, including her business finance course Becoming a CFO.
"I didn't like Teachable and Thinkific because the sites were clunky to use on both the admin and user sides," Wilson says. "I didn't have complete control of my money either."
But with MemberPress and LearnDash, she says, things are different. "Since these are plugins that I just install on my website, I can easily control every aspect of the selling process," Wilson says, "including getting my money immediately when someone purchases. I can also keep everything on my own website—sales pages, course content, and even a forum for my students. The two plugins work seamlessly together."
Fashion designer Eve Tokens also uses MemberPress. After trying Teachable, Thinkific, and Podia, she feels MemberPress is the best online course platform for selling her courses on sewing, pattern making, and fashion design at The Creative Curator (though she still has some students enrolled in her old Teachable school).
"I found that while each platform was great for one thing, none of them excelled at all the things," Tokens says. "For me, it was important to have my course area be easy to use, intuitive, and match my design aesthetic."
Of the three, she says Teachable was her favorite because the design options were better than Thinkific or Podia, but it was complicated to create memberships. She also didn't like the delay in payment processing. Tokens later switched to Thinkific for faster payouts and membership functionality, but her students were confused by the navigation. Next, she tried Podia, but she found the design to be a huge drawback.
"I hated how my main page and courses looked on Podia," she says. "It was far too minimal, and I really struggled to achieve an accurate representation of my business with Podia's design limitations." She did, however, think that Podia was the easiest for her students to use.
"In the end, the only solution that worked for me was to use a theme created for courses and memberships along with MemberPress," Tokens says. "I can now create courses as standalone courses or with modules and lessons for those longer topics. I can also limit access to individual pricing or as part of a monthly membership. And it is so much nicer having infinite control over the design of my schools and courses. The backend is easy to understand, as I'm super familiar with WordPress, and my students find it really easy to navigate too! Best solution yet."
AccessAlly
Price: Starts at $99/month ($84/month if you pay yearly)
Free trial? No, but they do offer a free demo of their product
Pricing/Plans:
AccessAlly Essentials: $99/month
AccessAlly Pro: $129/month
AccessAlly Done For You: Starts at $4,500
Juliane Grasekamp, business coach at Pioneer Playbook, used Teachable to host her online courses at first, but eventually, she craved a solution that gave her more control.
"I also wanted to be able to integrate more advanced features and have the ability to add more gamification to the courses," she says.
Now, she uses AccessAlly. "It adds some fantastic course features, such as private notes and interactive checklists," Grasekamp explains. "Teachable is fantastic for starting out, but building out on WordPress is just so much more versatile and flexible, and there are really no limitations at all on what you can build and how it looks."
FREE TRAINING: How to Create a 7-Figure Course From Scratch Using Foundr's Never-Revealed "Rapid Course Formula"
Which One Is the Best Online Course Platform for YOUR Business?
As you can see, when deciding on the best online course platforms to use, it can be a very personal choice that depends on your preferences, tech skill level, and needs. For every course platform I mentioned in this article, there are people who love it and people who prefer something else. On top of that, there are many other platforms I didn't even cover.
Of the online course platforms I tested out, Kajabi seems like the best if you really want an all-in-one platform that you can use to replace your website, landing page software, and email marketing software, plus use it to build courses and membership sites.
If, however, you want to keep it simple and you're on a tight budget, then going with Teachable or Thinkific might be best because both offer free plans (with limited functionality).
Then again, if you want full functionality, the most affordable paid plan is either Teachable or Podia (both start at $39/month).
Whichever platform you select to build your online course, there's no right or wrong answer. If you try one and don't like it, you've still got plenty of other options to test out!
What do you think is the best online course platform? Share your opinions in the comments below!