If you're in ecommerce, you've got an email list. Maybe you grew your subscribers with a few lead magnets. Or maybe you gathered leads from a giveaway you hosted. At the very least, you have the email addresses of those who have purchased from your site. The question is, what are you doing with that list?
If you're just letting it gather dust, you're leaving money on the table. Email marketing has a whopping 3,800% ROI. That means for every $1 you invest in email, you'll get $38 back.
And the best part? Email marketing can do the selling without you lifting a finger. Welcome to the beauty of email automation. To make the most of your email marketing, here are the four email automations you should set up for your ecommerce business, today.
1. The Welcome Email
If you're not sending an email welcoming your new subscribers, you're missing out on a prime opportunity to build a relationship with your customers. The best metaphor I've seen for a lack of a welcome email is from Constant Contact, which likened it to someone walking into a store and being ignored. That customer is highly unlikely to buy; in fact, they're probably going to walk out. Don't let this happen to your email list subscribers!
Your first email to a subscriber is your first impression—so you want to make sure you nail it. Like many other business processes, it should be automated to be sent the instant someone subscribes to your list.
Here are the essentials you should include in that initial email:
A bit about your story
What the subscriber can expect from you in the future
A call to action that encourages them to explore your site and products
Ways they can find out more about you, such as links to your social media accounts
BluChic does an excellent job incorporating the above elements into their welcome email. Here's an excerpt:
It's important that you don't go in for the hard sell in the welcome email. You're just starting to build a relationship; the selling can come later. There is one exception, though, and that is if your opt-in was a discount code offer. In that case, you can send them the discount code and encourage them to use it, like Postable does in its welcome email here:
When someone joins your ecommerce email list, they've just walked into your store and are looking around. Be polite and start building a relationship by walking up to them, introducing yourself, and letting them know how you can help. You can accomplish all of this with your welcome email.
Get a FREE Lesson from Our Course: Ecommerce Masters! Learn the FASTEST Path to a Million-Dollar Store
2. Cart Abandonment Emails
A cart abandonment email is an email marketing automation that gets sent to every customer who adds something to their cart but does not complete their purchase within an hour or two. You can see why this is so powerful, right? Lots of shoppers add items to their cart, and given the nature of the internet, get sucked into another window or tab and forget about your site.
Baymard Institute looked at 37 different studies on ecommerce shopping cart abandonment and calculated that the average cart abandonment rate is around 69%—that means for every 10 people who start a purchase on your site, nearly seven will leave without buying. But there's a powerful way you can get them back. You guessed it—email.
Some key elements of a cart abandonment email:
Remind your customer of what they left inside the cart.
Reiterate the benefits of your products.
Offer a discount to encourage them to complete their purchase. Make it time-limited to add a sense of urgency.
Include a strong call-to-action.
Here's a great example of an abandoned cart email from Grammarly that includes all the elements mentioned above. When I started to sign up for Grammarly Premium and then left without purchasing, I received this email within one hour:
And don't stop at just one email. Sending three abandoned cart emails results in 69% more orders than a single email, according to research by Omnisend.
A three-part abandoned cart series could look like this:
First email: A reminder of cart items
Second email: A time-limited discount offer
Third email: A "last chance" reminder
Your customers have come this far—they've put the product in their basket and are standing in the checkout line! If they get distracted and wander off, your abandoned cart emails will swiftly guide them back to the cash register to complete their transaction.
3. Re-Engagement Campaign
Email marketing is all about nurturing relationships, but what happens when your subscribers no longer seem interested? We're going to talk about two kinds of cold subscribers:
Those who haven't made a purchase from your site in a while
Those who haven't opened an email from you in a while
If it's been a few months since a customer returned to make another purchase from your site, it's a great idea to try to re-engage them by reminding them how awesome your products are! Think this won't make much of a difference to a dormant customer? Think again. Retail business Howards Storage World sent a re-engagement campaign to customers who hadn't shopped in 12 months or more and saw a $108,000 increase in revenue—a higher ROI than that of their "super members" list.
Greetabl gets creative with its re-engagement emails, making you feel like a long lost friend they want to reconnect with. After three months of not making another purchase from Greetabl, I got this email with the subject line, "We're still friends….right?":
Offering a gift to win a customer back is always a great idea. Check out how subscription box company Love With Food does it:
Another way you can re-engage a dormant customer is to remind them of all that you have to offer. You could send an email with a section that says, "Items you might like," along with images of and links to your products.
If a subscriber hasn't opened an email from you in a couple of months, it's time to send them a re-engagement campaign. The reasons for this are twofold: one, email service providers charge you based on your number of subscribers, so you're paying for the ones who aren't even active. And two, this is a prime opportunity to re-engage a customer and get them to purchase.
Before you give a cold subscriber the boot, it's nice to give them fair warning. I recommend sending three emails to a give a subscriber a chance to open one before you delete them from your list.
To remind them of the value you provide, give them an incentive to stay on your list. This can be in the form of a free download, a discount code, or some other small gift.
Here are three emails you can send to re-engage a subscriber:
First email: Do you still want our emails? This one should have a clear subject line that asks a question and entices someone to open your email. It should also let them know that they will be unsubscribed and when it will happen. Lastly, it should give them a way to reactivate their subscription by clicking a link. Here's a good example from Natalie Sisson:
Second email: Discount or special offer. If a question didn't work, a discount usually will! Make it clear in the subject line that if they open your email, they'll be rewarded. Examples might be "Open for 25% off" or "Your gift is inside." In the body of the email, explain that they will be unsubscribed at a certain date unless they click a link. Then, to soften that blow, offer a discount or gift as a thank you for staying subscribed.
Third email: Last chance. If all else fails, it's time to remove them from your list. The third and final email can simply say "You've been unsubscribed." This lets them know what has happened, in case they're wondering where your emails went. When they open that email, there should be a link for them to click if they wish to resubscribe.
Deleting any contact from the list you worked so hard to build is painful, but remember that regularly doing this keeps your list healthy and strong. It keeps your costs low, since you can avoid paying for inactive subscribers. Plus, it improves your open rates, since your list consists only of engaged subscribers. I recommend cleaning up your list every three months.
Get a FREE Lesson from Our Course: Ecommerce Masters! Learn the FASTEST Path to a Million-Dollar Store
4. Transactional Emails
Transactional emails, such as order and shipping confirmations, don't get much love. And that's a shame because, according to Experian, they get up to eight times higher open rates and earn up to six times more revenue-per-email than your average email!
So what are some ways you can optimize the humble transactional email to boost your ecommerce revenue?
Cross-sell by including images of and links to related products
Amazon is a pro at this one. In every order and shipping confirmation email, they include images and links to related products at the bottom. This is highly targeted because these products are directly related to the ones the customer just purchased. Check out the shipping confirmation email I received from Amazon after purchasing a red computer chair:
Encourage your customer to share with their friends
Just because one person has made a purchase doesn't mean it has to end there. Word-of-mouth marketing is alive and well. In fact, a Nielsen study found that more than 80% of respondents trust recommendations from friends and family. One way to boost your marketing efforts is to encourage sharing in your order confirmation email. Here's an example of an email Munchery sent me after I placed an order: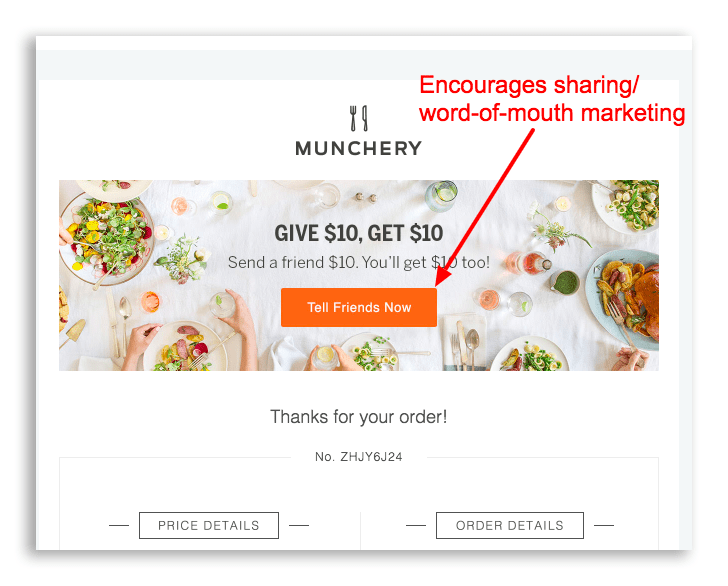 Ask them to download your free app
No, it doesn't directly boost your sales, but it eventually will. Getting them to install your app on their smartphone is yet another way to stay connected with your customers and eventually get them to purchase.
As you can see with the Warby Parker app, users can take photos of their at-home try-ons and even use the app to make a purchase.
Ask them to follow you on social media
Similar to the app example above, social media is another way to market to your prospects outside of the inbox. So be sure to include your social media links in the footer of your transactional emails.
At the bottom of the order confirmation I got from Greetabl, a colorful image encourages me to follow the business on Instagram to stay up-to-date
Follow up on the purchase to get customer feedback
This is more of a customer support element, but the way you handle customer support affects your sales too. On top of that, by sending a customer feedback email, you might just get a glowing testimonial you can use in your marketing (with permission from the customer, of course).
Warby Parker is able to calculate their NPS score (Net Promoter Score) and gather feedback from customers through this email that follows up on a new order:
Once you click a score, you are led to this page which asks for your detailed feedback:
As you can see, transactional emails can do more than just notify a customer when a shipment has been delivered. Put those emails to work, and you'll see a boost in sales!
Not only can transactional emails encourage users to buy more, but they're also important for the customer experience. Your customer has just parted ways with their hard-earned cash; they want to be kept in the loop every step of the way. In fact, a study by Mailjet found that 41% of customers feel annoyed when they haven't received an order confirmation within one minute.
So keep your customers happy and boost your revenue by optimizing your transactional emails. If you use Shopify, you can try Spent.ly. It's free and offers a premium version should you need it.
Some Final Tips for Ecommerce Email Automation Success
Avoid spam trigger words. While you want your subject line and content to be juicy enough to get people to open up and click, there are certain words that could send your automated email straight to the spam folder, such as "free gift," "act now," and "order now." Be sure to watch out for all of these spam trigger words.
Determine the best day and time to send emails. There's a lot of debate in the email marketing world about the "best" day and time to send emails, but truth be told, it depends on your industry and even on each business. I recommend split testing to determine what's best for you.
Regularly check your analytics and tweak as you go. As you implement these different email marketing automations, it's important you check analytics as you go so you can tell if it's really working for you. Every automation will need to be tested and tweaked.
Get a FREE Lesson from Our Course: Ecommerce Masters! Learn the FASTEST Path to a Million-Dollar Store
Set Up Email Marketing Automations Today
Now that you're equipped with actionable tips and inspirational examples, it's time to take action! Here's a recap of the four types of email automations we covered today:
Welcome Emails
Cart Abandonment Emails
Re-Engagement Campaigns
Transactional Emails
Never underestimate the power of email marketing. Curious visitors will land on your website once, and then how will you ever get them to think of you again? When you've got an email list subscriber, that person has invited you into their inbox; don't squander the opportunity! As we've seen, email can have high ROI. And once you set up an automation, it just keeps selling for you over and over again.
Got any questions on implementing email marketing automations in your business? Ask away in the comments below!