HOW TO GO FROM UNKNOWN AND UNDERPAID TO AN UNSTOPPABLE FORCE OF INCOME AND IMPACT IN YOUR INDUSTRY
Build A Powerful Personal Brand That Makes You Wealthy & Well-Known
With Step-by-Step Guidance From NYT Bestselling Author Rory Vaden
SCROLL DOWN
RORY'S INSIGHTS HAVE BEEN FEATURED IN:
Without a strong personal brand, even the most talented people will remain unrecognized and undervalued — no matter how hard they work. don't let it happen to you.
Growing up, many of us were told that if we went to school, got a job and worked really hard at our careers, it would be enough to succeed.

And for older generations, this might have been true.

Nowadays, being great at what you do simply isn't enough.

You must be great at what you do — AND you must know how to get in front of the right people with the right message.

You must have the ability to stand out in a marketplace that's flooded with talent.

In 2023, you must know how to build a personal brand.
How would your life and business be different if you had a strong, well-defined personal brand?

Here's the tale of two consultants:
Business Consultant A
Highly-skilled and well–educated in their area of expertise. Passionate about their work.

Doing things "old school" without a personal brand. No clear message or position in the market.

Using "hope marketing" to get new clients, "spray and pray" tactics to bring in leads and no consistent flow of revenue.

No intellectual property to leverage, every dollar made requires an hour of time.

Constantly feels the need to negotiate their rates because new clients are scarce

Not well-known, liked or trusted by their target audience
Annual Income: $60,000
Business Consultant B
Highly-skilled and well–educated in their area of expertise. Passionate about their work.

Well-defined personal brand with a clear message and a strong position.

Has a system for bringing in clients consistently and a waiting list of people who want to work with them months in advance.

IP that turns content into dollars: digital content, books, courses, seminars, masterminds etc.

Commands high rates and receives them because clients are abundant

Seen as the "go-to" source for information in their area of expertise

Annual Income: $300,000
Here's the harsh truth: we now live in the Attention Economy. In this new era of digital connection, your ability to be seen by your ideal audience is the difference between a quiet career, scraping by in obscurity and a thriving, passionate career that allows you to change the world — and become wealthy in the process.

Now, to be clear, we're not just talking about becoming an "influencer" or an online celebrity. A personal brand has nothing to do with being famous to the public. It has nothing to do with the number of followers you have or whether you know how to use the latest social media apps.

Popularity is important. But you only need to be popular in the right crowd. It's all about being known, liked and trusted by the people who you can serve most directly.

In the Attention Economy, every career needs a strong personal brand to reach its full potential.

Whether you're a local chiropractor who wants to bring more patients into the clinic…

A makeup artist who wants to begin working with elite clientele…

An employee wanting to climb the corporate ladder into the C-Suite…

Or an entrepreneur ready to drive more customers to the business…
A powerful, well-defined personal brand is the missing link between being unknown in your field and becoming unstoppable.
As technology continues to change our perception of the world, it's clear that personal brands are only increasing in popularity and effectiveness. And the trend is accelerating.

In fact, a 2022 research study called "Trends In Personal Branding" showed 67 percent of ALL Americans would be willing to spend more money on products and services from the companies of founders whose personal brand aligns with their own personal values.

Here's why:

Personal branding is shaping the future: Millennials and Gen Z are placing a remarkably strong emphasis on personal branding to make important decisions. Personal brands can affect what content they watch, what food they consume, where they shop, their career choices, who they trust, who they recommend to others, who they hire, who they vote for, and even their romantic interests.

Personal branding is highly profitable: the younger generation of leaders and influencers, who will have significant purchasing power for the next 30 years, don't see personal branding as just a superficial game of popularity. Instead, they consider it one of the primary factors in deciding where to spend their money.

Personal brands build trust: an impressive 74 percent of Americans are more likely to trust someone with an established personal brand. Equally compelling, 82 percent agree that companies are more influential when their executives have a recognizable personal brand. These findings underscore the power of personal branding in cultivating trust and amplifying influence.

The evidence is crystal clear: the world cares about personal brands and they vote with dollars. Because we don't relate to products or ideas as much as we relate to people.
The good news is that you can learn how to use the same strategies these icons have used to become the .0001% in your own field — and get paid accordingly.

But we're guessing you don't have millions of dollars and a decade of time to wait in order to build a powerful personal brand that will make you wealthy and well-known in your industry.

Luckily, there's a proven, step-by-step formula for building and monetizing your personal brand that takes all the guesswork out of the equation — and shows you exactly how to raise your impact, influence and income at the same time.
introducing Foundr's new course
Monetize your personal brand
The Fastest Way To Go From Unknown and Underpaid To An Unstoppable Force of Income and Impact in Your Industry — with Expert Brand Builder Rory Vaden
If you're tired of feeling like just another face in the crowd, constantly overshadowed by competitors who seem to have it all figured out…and would love to gain wealth, influence, and success by standing out from the rest…

Renowned personal branding coach and trailblazer, Rory Vaden, will guide you on a transformative journey that will magnetize your career, ignite your personal brand, and unleash your full potential to do your best work and build a better business.
Watch this Video with Rory Vaden to Learn How Building a Powerful Personal Brand Can Transform Your Business Today!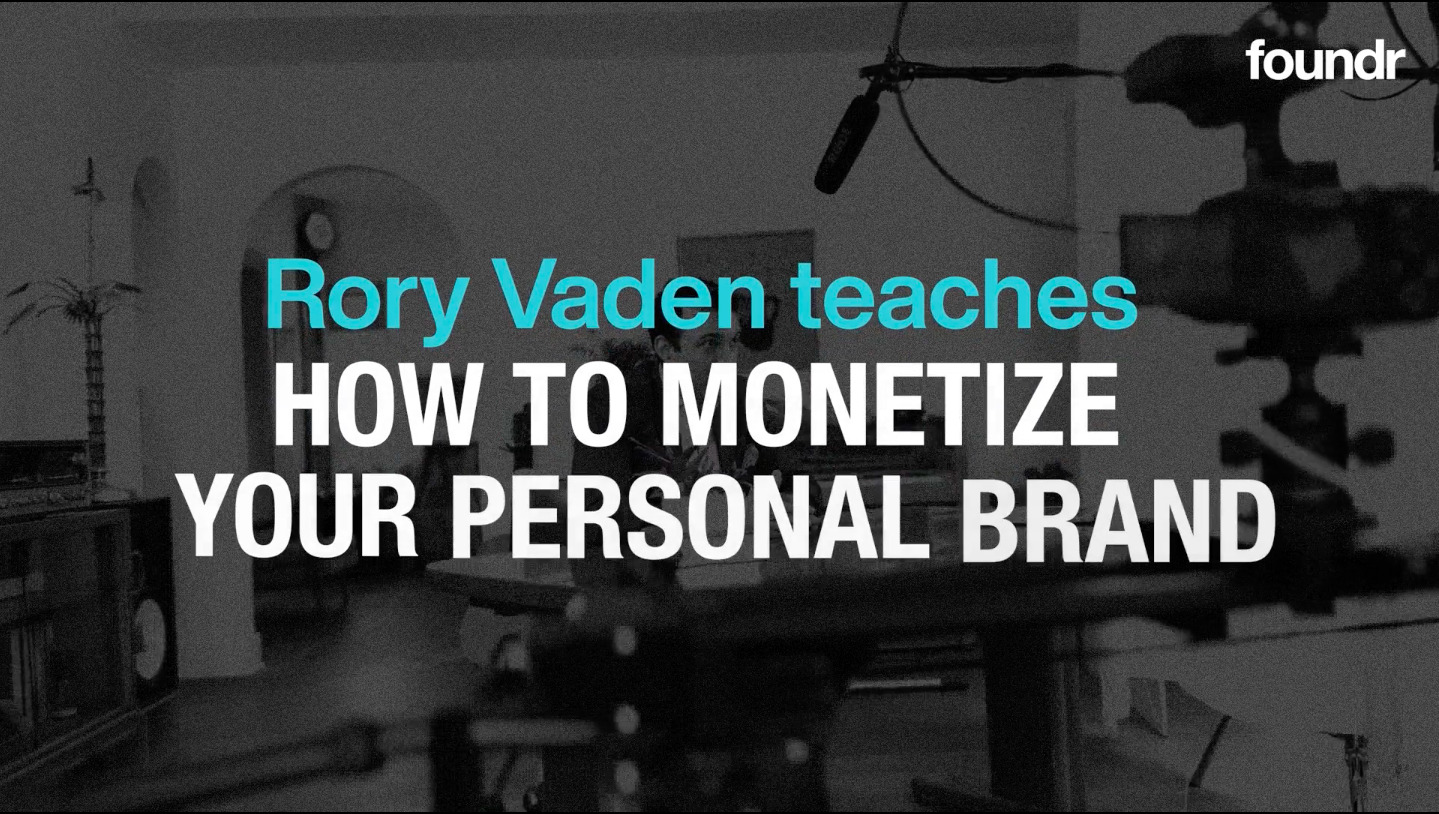 A Unique Formula For The
Digitization of Your Reputation
Monetize Your Personal Brand is built upon a framework called the Brand DNA Helix, which has been used to grow the personal brands of thousands of entrepreneurs and professionals around the world — as well as the mega brands of well-known experts like Ed Mylett, Eric Thomas, Lewis Howes and many more.
Here's what a few of Rory's well-known students have said about working with him.
Anton Gunn
Former Advisor to President Barack Obama
"Phase one gave me clarity about who my target customer is, my brand positioning statement, how to really tap into my uniqueness… The last two days of phase two have been really impactful to me, helping me to understand how to position myself in the marketplace… My greatest takeaway is how simple it is to build a sales funnel that actually delivers results… Don't walk, don't wait, but run to [Rory Vaden's team]. They're incredibly impactful in helping you to see the vision that you want to see for yourself and your business."
Aimee Joshua
The Chasing Dreams Podcast
"Phase two with [Rory Vaden's Team] has exceeded all my expectations. The biggest takeaway is the clarity I received about funnels; now I see the picture and how it comes together. It clears up the mystery and gives me action to start implementing. [Rory Vaden's Team] provides a formula, a plan, without having to try and fail. Phase two has been a godsend for me; now I know the next steps. It's not a mystery; you have the game plan, go out and execute. Definitely recommend it for people who know their message but don't know the next steps. This will get you set up."
Sazan and Stevie Hendrix
The Good Life
"We came here with a scope that was almost as wide as a scope could be… the biggest thing the first day is we started narrowing that scope and we started getting so much clarity… it's really been just like a game changer for us in the two days that we've been here with [Rory Vaden's Team], able to just decompress, get creative… it's so simple and it's something that I'm like, why didn't we think of that?… to have somebody who has thought of it, who has walked that walk, who can talk the talk… I'm so confident moving forward in our business with our new ideas."
Rick Steele
Best Selling Author & Entrepreneur
"I think what happens when you are trying to work on your own brand… it quickly became very evident to me that I needed help on this and needed to work with someone that had a framework that was doing this in the real world… what I've learned is there's a process for everything and the process of how you build a business is a little different than the process that you're using to build your own voice and build your own brand… so I would just say like many other things in my life, I try to go in with a very specific goal… [Rory Vaden's Team] will help you deep dive, get you into what your true superpower is and really develop and craft and hone a message that's gonna make sense for you. I would definitely recommend [Rory Vaden's Team]."
Ed Howie
Brand Strategist & Serial Entrepreneur
"What's been great about these two days is that we've really been able to put a structure around the message… Meaning what are the different ways in which we can reach different audiences with different elements or levers of the message… So great clarity that we've received the last two days is really being able to position ourselves as an expert… What I love about the structure, which [Rory Vaden's Team] have brought to me and to our team, is giving us a framework and a step-by-step process of going from this ideation… of building the message, building the creation of the whole structure, and then the process from which sharing that message through all the incredible media that is available to reach more people and hopefully help more people."
But there's only one thing you need to know about building a world-class personal brand:
You are most powerfully positioned to serve the person you once were.
So, ask yourself the following questions:

– What obstacles have you overcome?
– What setbacks have you survived?
– What tragedies have you triumphed over?
– What problems have you pushed past?

The answers to those questions can turn your life experiences into a winning lottery ticket. And Foundr has teamed up with leading brand building expert Rory Vaden to unlock the proven formula for the first time ever.
This Isn't Just A "Fluffy" Course Full of Information and Inspiration — It's An All-Out, No-Holds-Barred, Battle-Tested System For Building A Sustainable Business With Your Personal Brand — No Matter What Industry You're In
The "secret sauce" of Monetize Your Personal Brand rests in its ability to get to the core of who you are, find your uniqueness and ethically exploit that in the service of others.

The good news is, building a world class personal brand has nothing to do with luck, timing, money or celebrity. It has nothing to do with fancy websites, gigantic social media followings or viral videos.

(Thank God!)

It's all about precision, human psychology and a patient, strategic approach. Are you ready to build your legacy?
Here's what you'll learn inside Monetize Your Personal Brand
Identifying and Solving Your Audience's One-Word Problem With Precision
The biggest challenge most entrepreneurs face when building their personal brand is answering this simple question: "What problem do I solve?"
Even experienced business owners who seem to have it all figured out struggle to concisely state what they actually do. Precision is power and as Rory says: "The more specific the focus, the more terrific the results."
In Monetize Your Personal Brand, Rory will expertly guide you through the process of identifying your strengths and getting laser specific about exactly how you can serve the world.
In fact, your personal brand will become so painfully clear that you'll be able to articulate it in just one powerful word.
Have you ever caught yourself banging your head against the keyboard late at night, saying one of the following:
"I'm unfocused."
"I'm not sure what problem I solve."
"I can't clearly articulate my customer avatar."
"I'm talking about too many things to too many audiences."
"I don't have a central core message."
"I can't figure out how to differentiate myself from competitors."
If you have, this program will untangle all the knots and finally stop you from running in circles chasing your tail.
Rory's proprietary frameworks will show you how to get razor sharp with who you serve, what you're really passionate about, what problem your brand solves and precisely how you will monetize it effectively.
No theories. No guesswork. All meat, no filler.
Building A Robust, Reliable Revenue Engine
Every other personal branding course on the market stops at theory and content strategy. They often rely on "hacks" and trendy tactics to show you how to get followers on whatever platform is hot at the moment.

They are not built on the rock-solid foundation of sustainable business practices.

That's why Foundr decided to team up with Rory to create a program unlike anything else available. Because let's face it: you don't want followers — you want money.

The sad truth is that many "influencers" are Instagram rich but financially broke. But Rory sees things a little differently. In fact, if you look at his social media, you'll notice something interesting…
He is by no means an "internet celebrity." He is well-known in his space, but not famous at all. Yet despite not having the most clout, he's still built multiple seven and eight-figure businesses — a feat which most people with followings 100x the size of his fail to do.
How?
Well, it all comes back to Foundr's "No Guru" principle. We only partner with practitioners who "walk the walk" when it comes to their expertise. And nobody walks the walk better than Rory Vaden when it comes to creating a revenue engine around his personal brand.
Inside of Monetize Your Personal Brand, you'll learn the step-by-step strategies he has used to create tens of millions of dollars for his own businesses and hundreds of millions for his clients' businesses — all with the vehicle of a high-powered, laser specific personal brand.

You'll get the inside scoop on:
1
Offer Structure and Price Strategy
Why the majority of small businesses leave millions of dollars on the table with poor price strategy.
How to create offers so good that your customers will feel stupid for saying "no."
The #1 mistake that entrepreneurs make when packaging their offers (this one is a "head slapper).
How to create ethical urgency that makes people ready to buy as soon as they get on the phone with you or your team.
2
Creating Magnetic Content
This (extremely common mistake) is the kiss of death for all would-be personal brands…
The secret to creating amazing, on-brand content consistently without complete burnout.
Why most entrepreneurs are worried about the wrong things when it comes to creating content — and what to focus all of your attention on instead.
The Content Diamond: a crystal clear framework for producing high-quality content with speed
3
Generating Free Traffic
The 7 Pillars of Promotion: utilizing all the tools at your disposal to generate high-quality leads who are primed to hear your message, including:
– Podcasts
– PR
– Email lists
– Social Media
– Publications
How to correctly funnel all this traffic through your revenue engine to create a rolling ball of cash that continues to build momentum every single day.
How to automate every single system to create "compound interest" for your time while maximizing your profits.
Rory's system for creating your revenue engine is like no other — because it combines a step-by-step approach to offer creation with actionable, lab-tested strategies for content creation and traffic generation.

The end result is a bulletproof system that does one thing, and one thing only: creates a cash machine.
The Art of Pressure-Free Persuasion
In Monetize Your Personal Brand, your entire paradigm around sales is going to change. In fact, with Rory's approach, you'll never "lose" a sale again.
Whether you're a complete beginner or you've been doing sales for a while, the process can be confusing, overwhelming and frustrating at times. But it doesn't have to be.
That's because Rory's service-centered approach to selling is the easiest way to eliminate all pressure from a sales situation. In Monetize Your Personal Brand, you'll learn:
Why, contrary to popular belief, referrals are NOT the best driver or sales — and what the #1 accelerant of all sales really is…
3 specific ways to build deep relationships with people that increase your "relational bank balance"…
How to effortlessly connect with people who are eager to introduce you to the perfect prospect — without ever having to be salesly or "sleazy" — using the "Check-In" Method…
The secret to flowing through a sales conversation and getting your prospect to sell themselves on what you're offering using the "Do It Now" Method (most people get this wrong)…
How to close the biggest deals of your life with absolutely no pressure — and still "win" the relationship, even if you don't win the sale…
How much would it be worth it to you to master just ONE of these powerful tools and techniques?
The answer could be millions of dollars.
The good news is that you'll get access to all of these, plus many more powerful frameworks that Rory and his team have spent decades honing, perfecting and testing.
WHAT'S WAITING FOR YOU
inside "Monetize your personal brand"
These modules are packed with actionable insights and practical techniques to help you build, monetize, and promote your personal brand.
Module 1:
Build Your Brand
Uncover your sparkle! Dig into your DNA, talk to your tribe, forge your message, position like a pro, and bam! You've got a brand that dances.
Lesson 1: Introduction
Embark on a journey through personal branding, breaking down walls and igniting a passion to move from the unknown to the known.
Lesson 2: Your Brand DNA Overview
Unravel your unique brand proposition by probing six core questions, carving a path through passion, problem-solving, and business model exploration.
Lesson 3: Your Audience's One-Word Problem and Passion
Zero in on your audience's one-word problem, offering solutions with laser-focused precision and clarity.
Lesson 4: Who Do You Serve? (Research/Results)
Speak directly to the individual, exploring demographics and psychographics to craft a tailored message that resonates with your 'why' as a 'who.'
Lesson 5: Monetization Strategy
Unlock the golden grid of monetization, aligning your primary revenue stream with your true purpose and design.
Lesson 6: Brand Positioning Pt 1: Message and Uniqueness
Forge your brand's unique message, distilling your truth into an actionable statement that lives at the core of who you've been and who you're called to be.
Lesson 7: Brand Positioning Pt 2: Your Brand Positioning Statement
Unearth the underlying cause of your audience's struggle, weaving a powerful positioning statement that resonates on multiple levels.
Lesson 8: Titles
Craft compelling titles that sell the destination, not the journey, inviting curiosity and alignment with your brand's essence.
Lesson 9: Your First Positioning Tool
The Expert Bio: Sculpt a captivating expert bio that packages your credibility, mission, and passion, ensuring your first impression is fearless and clear.
Module 2:
Building Your Revenue Engine
Rev that revenue engine! Blend offers, polish your content like a diamond, grab attention for free, and watch your bank account ring "cha-ching!"
Lesson 1: Introduction to Your Revenue Engine
Kickstart your success engine by focusing on relationship building, strategic planning, and immediate implementation, turning referrals into revenue conversion.
Lesson 2: Offer Structure
Navigate the intricacies of pricing and packages, choosing between collapsible offerings or bundled pricing, all while adding urgency with well-crafted limiters.
Lesson 3: The Content Diamond
Polish your marketing through the Content Diamond strategy, utilizing amazing free content as your engine fuel, competing for attention, and automating your content creation.
Lesson 4: Free Traffic Sources
Harness the seven pillars of promotion, ranging from podcasts to social media, utilizing free traffic sources to connect with your audience and keep them engaged.
Module 3:
Pressure Free Persuasion
Sell without the squeeze! Embrace the ethics, befriend your clients, listen like a detective, close with class, and turn "No way!" into "Today!"
Lesson 1: Introduction & The Service-Centered Mindset
Shift from a self-centered approach to a service-centered mindset in sales, using ethical forms of persuasion, focusing on the client's best interest, and committing to ensuring everyone wins.
Lesson 2: Relationships and Referrals
Build sales through fostering genuine relationships and leveraging relational equity, focusing on giving, building trust, and using deliberate strategies like volunteering, supporting, and using platforms like LinkedIn to grow referrals.
Lesson 3: Discovery
Learn to understand your target audience's needs by encouraging open dialogue, discovering their core principles, and aligning your approach to what they believe in and operate by.
Lesson 4: 9 Categories of Closing Questions
Apply service-centered hard closing when necessary, emphasizing what's best for the client, while being forthright if the product or service isn't the right fit, aligning the closing strategies with ethical considerations and the client's real needs.
Meet your instructor
RORY VADEN
New York Times Bestselling Author and 8-Figure Business Owner
Rory Vaden is the co-founder of Brand Builders Group, the world's leader in personal brand strategy. They help mission-driven messengers to expand their reach, grow their income and make a more positive impact in the world by teaching them how to build and monetize their personal brand.
They work with recognizable clients such as Lewis Howes, Ed Mylett, Amy Porterfield, Eric "ET Hip Hop Preacher" Thomas, Jasmine Star, Peter Diamandis, Erwin McManus, Luvvie Ajayi Jones, Tom and Lisa Bilyeu and Jon Gordon all the way to brand new aspiring experts and entrepreneurs.
Rory's first book Take the Stairs is a #1 Wall St Journal, #1 USA Today, #1 Amazon and #2 New York Times bestseller that has been translated into 11 languages.
As an expert in the psychology of influence, Rory frequently appears in the national media for his insights on overcoming procrastination, increasing focus, and creating more influential leadership. He has been listed as one of the top 30 leadership bloggers in the world by Alexa and formerly hosted a podcast listed by Inc Magazine as the #1 best business podcast.
Foundr is ecstatic to partner with an expert practitioner of Rory's caliber to bring you the world-class, highly-actionable strategies found in our new course, Monetize Your Personal Brand.
Here's what a few of Rory's well-known students have said about working with him.
Anthony DiClementi
Biohacker & Bestselling Author
"I wanted to get clear on what my next book was gonna be… what was probably our biggest challenge, which is that we're good at a lot of things, but we didn't own any one place in the marketplace… It's been awesome. It's been really good. Great group of people. Lots of creative energy flowing and collaborative environment… for us, this felt like a necessary step in order to get to the next level… We needed more clarity… so if someone's looking for clarity and they know that they've got a message to share with the world… come here and hash it out with [Rory Vaden's Team]."
Rebecca Louise
Author & Fitness Coach
"Also wanted to say that I just did my last call for the inner transformation programme, but I did your webinar structure of how to sell for the next one… Had 90 people on the call and 65 people bought on the call… So thank you so much [Rory Vaden's Team]. I really, uh, appreciate that training And yeah, just made 2,400 bucks."
April Garcia
Performance Coach & Author
"What really struck me is that I was overlooking some of the basics, both in my business and just the branding and the marketing piece… It's easy to move forward without getting real clarity on your message and who you are as a brand and who your business is… I would say my biggest takeaway is going back to the basics and really establishing who you are, your message, so you can really serve those clients… Get real clarity on how you can best come and deliver what needs to be delivered… [Rory Vaden's Team] has done a phenomenal job, so I highly recommend this event."
3 Powerful Reasons Why NOW Is The Perfect Time To Begin Building (or Improving) Your Personal Brand
1. Ignite Your Business Growth
In a sea of competitors, standing out is not just a luxury; it's a necessity. Monetize Your Personal Brand will help you crat a magnetic personal brand that captivates your target audience, setting you apart as the go-to expert in your niche. Imagine attracting high-paying clients effortlessly, commanding premium prices, and consistently growing your business—all thanks to the irresistible power of your personal brand!
2. Dominate Your Market
The entrepreneurial landscape is evolving rapidly, and entrepreneurs who fail to adapt get left behind. With Monetize Your Personal Brand, you'll gain the strategic insights, practical tools, and insider secrets needed to dominate your market. We'll guide you through defining your unique value proposition, leveraging social media platforms, and creating a compelling online presence that resonates with your ideal customers. Prepare to leave your competitors in the dust as you claim your position as an industry authority.
3. Open Doors to Limitless Opportunities
Building a personal brand isn't just about boosting your business; it's about transforming your entire entrepreneurial journey. By enrolling in Monetize Your Personal Brand, you'll unlock a world of boundless opportunities. Discover how to attract lucrative partnerships, secure speaking engagements, and land influential collaborations that elevate your brand to new heights. Imagine the doors that will swing open when your personal brand becomes a magnet for success, recognition, and endless possibilities.
Here's Exactly What You're Getting When You Invest In Monetize Your Personal Brand
COMPREHENSIVE VIDEO TRAINING IN EASILY-DIGESTIBLE MODULES
Over 7 hours of laser-sharp strategy and highly-actionable concepts taught by Rory Vaden. Each module contains proven frameworks and techniques for building a strong personal brand from scratch or enhancing your existing personal brand—empowering you to become your own brand architect.
A PEER GROUP TO COLLABORATE, STRATEGIZE AND GROW WITH
Your membership in Monetize Your Personal Brand grants you exclusive access to a supportive community of like-minded professionals to network and collaborate with on your journey to building a powerful, profitable personal brand that stands the test of time.
TOOLS TO SIMPLIFY AND CLARIFY THE PROCESS
You'll also get downloadable resources, worksheets, and templates that will simplify the implementation of the strategies taught in the course, making it easier than ever to put your newfound knowledge into action.
Only actionable exercises and practical tools to implement what you learn and achieve measurable results — which means more impact on the people you're here to serve and more income in your bank account.
24X7 CUSTOMER SUPPORT WITH REAL HUMANS
As part of this program, you'll also enjoy 24×7 assistance from real humans. No matter the time or day, our dedicated support team is here to help you navigate any challenges or inquiries you may have.
FOUNDR'S 100% MONEY-BACK SATISFACTION GUARANTEE
Your investment in this life-changing course comes with a 100% satisfaction 15-day money-back guarantee.
Now is the time to act and take advantage of 75% off our normal price — for a limited time only during launch.
Here's exactly what to do:
Click the "Sign Up Now" button anywhere on this page.
Enter your billing details in our secure and encrypted checkout portal.
Open your welcome email & access your entire course curriculum and bonuses.
Begin building a powerful, profitable personal brand.
Reach out to us anytime at [email protected] with any questions or comments.
Monetize Your Personal Brand
(1x Single Payment)
19 lessons that take you through the step-by-step roadmap for entrepreneurs and professionals to attract high-paying clients, dominate the market, and open doors to limitless opportunities.
US$1997
Monetize Your Personal Brand
(4-month Payment Plan)
19 lessons that take you through the step-by-step roadmap for entrepreneurs and professionals to attract high-paying clients, dominate the market, and open doors to limitless opportunities.
4XUS$597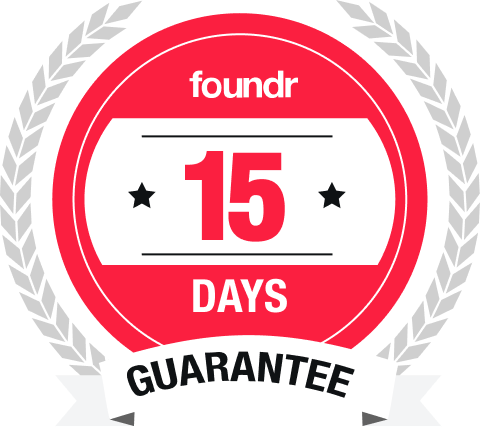 15-Day unconditional
money back guarantee
We do NOT guarantee you're going to make any specific amount of money here. How much you make is entirely up to how much you apply, and how much effort you put in.

However, we are so confident that Monetize Your Personal Brand has the power to change your life… that's why we're offering you a 15-day money-back guarantee.

Which means, when you enroll today, you have 15 days to try it out. When you do, the results will blow your mind or it's free. If you're not feeling PUMPED about your results, all you need to do is to email [email protected] and our 24×7 support team will process the refund immediately.
Bonuses included in the course
To sweeten the deal, we're adding incredible limited-time bonuses to make it even easier for you to implement everything from the course into your business.
The 15 Ps To Writing Compelling Copy
This is Rory's signature copywriting framework, designed to guide you through crafting persuasive and engaging content. The systematic approach encapsulated in the 15 Ps ensures that you can effectively connect with their audience and convey your message clearly, enhancing the overall impact of your personal brand.
How to Build A Powerful Personal Brand LIVE With Rory Vaden (recording)
This is a recorded live case study where Rory engages with a student to explore the process of uncovering one's unique message and developing a strong personal brand. Through this real-world example, you'll gain insights and practical knowledge on how to define and articulate their own brand, enhancing their ability to connect with their target audience.
Will Monetize Your Personal Brand Work For You?
That depends: do you have a message that you know the world needs to hear?

One of the reasons we're so excited about launching this course is because it's the perfect fit for any mission-driven messenger who wants to build authority, influence and impact, while greatly increasing their income.

Here are just a few of the types of clients Rory has successfully applied the concepts he reveals in Monetize Your Personal Brand:
Authors
Coaches
Trainers
Consultants
CEOs and Small Business Owners
Keynote Speakers
Financial Advisors
Doctors
Lawyers
Real Estate Agents
Athletes
Health and Wellness Specialists
Podcast Hosts
Creative Artists
Celebrities and Entertainers
Politicians Activists
Government Officials
Direct Sales Professionals
Online Influencers
TV Personalities
Many more!
What Results Can You Expect After Completing Monetize Your Personal Brand?
Increased clarity and confidence: After completing Monetize Your Personal Brand with Rory Vaden, you will feel more confident in your abilities, talents, and unique selling points. You'll know exactly how to digitize your reputation and ethically exploit your uniqueness in service of others.
Enhanced networking skills: Effective personal branding is about building relationships and networking with others in a meaningful way. Monetize Your Personal Brand will help you develop your networking skills, learn how to make a strong first impression, and create a compelling elevator pitch.

Improved online presence: In today's digital age, having a strong online presence is critical. After completing the program, you'll have all the skills and tools to improve your online presence through the creation of a professional website, social media profiles, and a strong personal brand message that resonates with your target audience.

Greater clarity on personal values and goals: Personal branding is not just about marketing yourself; it's also about understanding your personal values, passions, and long-term goals. Rory's teachings will help you gain clarity on what truly matters to you — and how to align your personal brand with your core values.

Increased professional opportunities: Effective personal branding can open up new doors and create opportunities for career advancement, business growth, and personal success. By studying the step-by-step strategies Rory lays out, you'll learn how to position yourself as thought leader, establish credibility, and differentiate yourself in a competitive job market.
WHY CHOOSE
Foundr is a leading online education platform that equips entrepreneurs and professionals with the necessary skills and knowledge to thrive in the digital age. With a global reach, Foundr offers a wide range of courses, masterclasses, podcasts and resources to empower individuals to build successful businesses and personal brands.
Foundr stands out from the competition through its unique approach to teaching. By focusing on practical strategies, real-life case studies, and expert insights, Foundr provides actionable knowledge that produces tangible results.
Unlike other platforms, Foundr prides itself on delivering comprehensive, high-quality content that empowers individuals to take their careers and businesses to new heights.
Best of all, our strict "No Guru Policy" means that every one of our course instructors has actually accomplished what they are teaching at the highest level.
The Opportunity Cost of Inaction
(The 5 Dream Killers)
Most people think of the cost before making an important decision. But fewer people think of the cost of NOT making a decision. This is called the opportunity cost — and they're the stakes you risk if you don't make the decision to change your life.
Here are the five biggest opportunity costs aka "Dream Killers" that can happen if you don't start your personal brand journey today:
Dream Killer #1: You won't maximize your true potential
Without a strong personal brand, you can miss chances for career advancement, promotions, networking, and business growth.
Dream Killer #2: It'll be hard to position yourself in your field
Without a strong personal brand, it will be difficult to establish yourself as an expert, reducing visibility and recognition among peers, industry professionals, and potential employers or clients, hindering your professional progress.
Dream Killer #3: Your reputation will suffer
Without a developed personal brand, it becomes challenging to build a strong reputation, influence others, and make a significant impact in your field, limiting your leadership potential and ability to effect change.
Dream Killer #4: Your network weakens
By neglecting your personal brand, you are neglecting valuable networking opportunities with like-minded professionals, mentors, and collaborators, which can weaken your professional network and restrict access to resources and support.
Dream Killer #5: You'll have trouble standing out
Personal branding helps you differentiate yourself from others by showcasing your strengths and unique qualities, and not investing in it may result in difficulty standing out, potentially leading to stagnation or being perceived as just another professional in your field.
Any one of these could be devastating to your ability to share your message with the world and get paid what you deserve. Luckily, by investing in yourself with Monetize Your Personal Brand, you can solve all these problems today with a simple, proven, step-by-step formula delivered by one of the world's foremost experts on personal branding, Rory Vaden.
Thinking About Joining?
It's normal (and smart) to have questions before making an investment in your future. Here are 15 of the most common questions people have about Monetize Your Personal Brand — along with our honest, unfiltered answers.
What I'm not comfortable with "putting myself out there?"
It can definitely be scary to build a personal brand at first because if you're doing it right, it's vulnerable and honest. That's enough to make anybody nervous. But here's the good news: your vulnerability can also be a source of strength and connection to others. Your bravery in sharing the things you've overcome can help others to do the same. By sharing your personal experiences and struggles, you can inspire and relate to others on a deeper level. Plus, the Monetize Your Personal Brand course offers a safe and supportive environment for learning and growth.
How much time is this going to take?
Building a personal brand is a long term investment of time that reaps incredible rewards when done correctly. Nothing worth having happens overnight. But as they say: "the best time to plant a tree was twenty years ago. The second best time is today." And although it will take a while to see all the pieces fall into place, you can make a lot of progress in a short amount of time if you're following the right map — like the one we've provided for you in Monetize Your Personal Brand. If you know that you want to build a personal brand, the worst thing you can do is waste your time and energy on activities that don't move you closer to your goal. Start today!
What if I don't have an expertise or skill to help people with?
The beauty about your unique talent and abilities is that you often take them for granted. They're normal to you. But there's somebody out there who is struggling with something that comes easily to you. Everyone experiences self-doubt or "impostor syndrome" at some point in their career. Monetize Your Personal Brand will help you overcome these self-imposed limitations by providing practical strategies for developing your personal brand and building your confidence.
The program Is expensive!
Rory teaches in the program that there is no such thing as "cheap" or "expensive" in a vacuum. You only know if a product or service is expensive in comparison to something else. Building a strong personal brand, you can attract more clients, higher-paying opportunities, and greater career fulfillment. So here's the real question: what's more expensive — a one-time purchase (at 75% off for a limited time!) of a program that has the potential to make you millions of dollars over the course of your career…or the cost of NOT having that information? This course is a no-brainer.
How do I know if I need this?
Personal Branding is not going away. Whether you're an entrepreneur building a business or an employee looking to move up the ranks, an intentionally-designed personal brand sets you apart from the competition and increases your visibility in the marketplace. In today's digital age, it's not a luxury. It's a necessity. Foundr's Monetize Your Personal Brand course offers the tools and strategies you need to stay on the cutting edge and get every bit of recognition and success you deserve for the good work you're doing in the world.
Should I start now?
When it comes to personal branding, the longer you wait to develop your brand, the more opportunities you may be missing out on. By enrolling in Monetize Your Personal Brand now, you can jumpstart your journey and start seeing results faster.
How do I know this will work for me?
Rory Vaden has a proven track record of success, and has received rave reviews from countless satisfied customers. Plus, the course comes with a satisfaction guarantee, so you can enroll with confidence and peace of mind.
What exactly is included in the course?
The Monetize Your Personal Brand course includes 3 basic components:
1: COMPREHENSIVE VIDEO TRAINING IN EASILY-DIGESTIBLE MODULES
Over 7 hours of laser-sharp strategy and highly-actionable concepts taught by Rory Vaden. Each module contains proven strategies and techniques for building a strong personal brand from scratch or enhancing your existing personal brand—empowering you to become your own brand architect.
2: A PEER GROUP TO COLLABORATE, STRATEGIZE AND GROW WITH
Your membership in Monetize Your Personal Brand grants you exclusive access to a supportive community of like-minded professionals to network and collaborate with on your journey to building a powerful, profitable personal brand that stands the test of time.
3: TOOLS TO SIMPLIFY AND CLARIFY THE PROCESS
Plus, you'll also get downloadable resources, worksheets, and templates that will simplify the implementation of the strategies taught in the course, making it easier than ever to put your newfound knowledge into action.
What's the guarantee?
Your investment in this life-changing course comes with a 100% satisfaction 15-day money-back guarantee.
I want to build a personal brand around X — does this apply to me?
If you have a powerful message that you want to share with the world, Personal Brand Mastery can help you digitize your reputation and build a business based on the obstacles you've overcome. Expert brand builder Rory Vaden has helped clients in dozens of industries launch, grow and scale profitable personal brands.
Will this work anywhere in the world?
Yes! No matter where you are in the world, Monetize Your Personal Brand can show you how to reach your ideal audience with your message.
What if I don't know who my ideal audience is?
That's ok! Rory's proprietary frameworks are designed to help you discover exactly how to exploit your own uniqueness in the service of others. You'll learn how to identify exactly who you are, what you're passionate about, who you want to serve and how to connect with them in an honest and authentic way.
What makes this program better than others on personal branding?
Monetize Your Personal Brand is not about creating the appearance of being successful or popular — it's about creating relationships and results. Other courses on the market focus strictly on content creation, beautiful brand imagery and the appearance of success. Monetize Your Personal Brand will show you how to create a dynamic, engaging personal brand that hits your exact target audience dead on and generates revenue — even if you never go viral on social media.
What if I need additional support?
We understand accountability, encouragement, guidance and validation are all part of the "secret sauce" that help you follow through on the course. So as soon as you register, you'll be given bonus access to a special closed-door Facebook group where you'll find other mission-driven messengers who can help you along the journey from where you are now to building a powerful, profitable personal brand. This collaboration is priceless.
Why is it worth the investment?
There are no investments that provide an ROI as big as a personal brand. Think of it. For only $497 (launch price) you get the exact playbook that's helped countless people entrepreneurs build six, seven, eight and even nine figure personal brands — directly from the person who taught them.
It's Time To Live Up To Your
Potential
Your personal brand is the fastest way to go from unknown and underpaid to an unstoppable force of income and impact in your industry. You don't need to have a million followers to make a million dollars. In fact, it's ok if right now you're still unsure of exactly what your personal brand is about!
Expert brand builder and eight-figure entrepreneur Rory Vaden will be by your side as he guides you step-by-step through a proven system to create a personal brand that is as potent as it is profitable.
The only thing you have to do is act now to take advantage of this incredible, limited-time launch special at a price that you'll never see again.
The best time to start your personal brand was twenty years ago. The second best time is today!
Take action now! Change your life and those of the people you serve by investing in this one-of-a-kind, in-depth training program by Foundr!