Every week here at Foundr Headquarters, we get dozens of emails about a single subject.
It's not about getting Instagram followers.
It's not about getting connected to Gary Vee or Tim Ferriss.
It's about HOW to create a digital magazine like Foundr.
EXCLUSIVE FREE TRAINING: Successful Founders Teach You How to Start and Grow an Online Business
How To Create A Digital Magazine
We couldn't manage to wrap that question up in a short email. That's why, for the first time ever, we've decided to completely unpack our own process for our readers, and share all of the behind-the-scenes secrets we've learned along our journey so far. So let's "begin at the beginning", as the King said to Alice.
If you want to learn the exact steps Nathan took to start the digital magazine, check out the video below:
Creating A SUPER Successful Digital Magazine (How We Did It)
How to Start a Magazine Like Foundr
Foundr Magazine started like any company: small. On a brave March 5th, 2013, Issue #1 of Foundr was published. It made $5.50 in profit with 79 downloads that day.
Issue #1 was nothing to rave about. It didn't even have a photo of a successful person on the front cover (instead, it was a stock photo). As Reid Hoffman, founder of LinkedIn, said: "If you're not embarrassed by the first version of your product, you've launched too late."
From that humble place, Foundr has grown to become a well-recognized brand in the entrepreneurship space, with a social media following in the hundreds of thousands. Foundr Magazine's cover has been graced by some of the world's biggest entrepreneurs, including Richard Branson, Arianna Huffington, Seth Godin, Marie Forleo, and Daymond John.
Now that we're on the other side, we can say with confidence that while the digital magazine play is not an easy game, anyone with hustle can win. The surface has only been scratched in this business and there is still a lot to gain for hungry entrepreneurs looking to profit in the media space. Even if you are not an entrepreneur aiming to build a media company, a magazine could be the marketing strategy you've been looking for.
Sit back, grab a coffee, and get ready to be schooled on the A to Z of building a successful digital magazine.
Do You Want to Create a Digital Magazine?
A digital magazine is a good play for nearly any business. Step number one before deciding to launch an online magazine is make sure that it's the right move for you and your business.
First off, check to see if there are successful digital magazines in your niche. If not, this may be a red flag that a digital magazine is not well-suited for your target audience. It may be that your target audience is older, and prefers print magazines. Or perhaps there isn't enough varied content in your niche to create regular publications. You can only find out by doing research to prove your concept.
Another consideration is money. Startup costs required to create a quality digital magazine can be relatively high (as detailed below). To compound the problem, digital magazines do not have high price points—in some niches, you'll find the prices hovering around only $0.99 an issue. In order to recoup your investment and start generating profit, you'll have to amass a large audience, which may require some further investment.
A digital magazine may not be what gets you to a very high income point in the short run. That's not to say that magazines don't make plenty of money. For example, Forbes magazine generates millions per year. But here at Foundr, we've found that a magazine is valuable beyond the profits it directly brings in. Those who will be winning in the future of media will no longer be companies that focus solely on publications.
The reason?
Generating revenue from ads, the primary model used by media historically, is leaving its glory days. You can ride the wave on its way down, but you'll be better off using your magazine as a tool to create diverse revenue streams rather than as the end destination.
Our suggestion? Use your magazine to create a mass of loyal followers, generate some recurring capital and become positioned as an authority in your niche. Then, it's all about developing a multi-platform strategy. You want a magazine, but you also want a podcast, a blog, digital products, social media presence, a newsletter, and more. Check out how Mequoda Group explains it—this is exactly what we've done here at Foundr.
A magazine is the perfect multi-functional, front-end product for your business:
Marketing: It's a great way for people to learn about your company and offers huge value to interested customers.
Building relationships: Magazines build trust between your business and your audience. Here at Foundr, we've also been able to use the magazine as a method to build trust and relationships with influencers as well.
Recurring revenue: Magazines are born for subscriptions, and if you play your cards right, you can depend on them for consistent and recurring income. You can use that income to quit your job or, if you are a boss entrepreneur, grow your business into other verticals.
Influence: Nothing spells influence in your niche than having a quality magazine going out regularly. It's more work than a blog, but the dividends in influence are proportional.
As great as this all sounds, keep in mind that magazines take as much work and time as any other business. Our CEO Nathan Chan worked on Foundr Magazine for a full year as a side-hustle before he was able to quit his job and grow the company to what it is today.
But if you're up for committing to the work, then read on.
Tools To Create A Digital Magazine
Digital magazines are easier than physical magazines for several reasons. There's no need to worry about the logistics and expense of physically delivering the magazine, finding a good printing house, or worrying about misdeliveries.
Nonetheless, the technology landscape for setting up, distributing, and getting paid for your digital magazine issue is important. You need to have the right tools to build your empire on a solid foundation. Lots of digital magazines will cut corners when it comes to tech, and as a result, they will freeze, break, and readers will bounce. Don't let this be you!
Foundr Magazine only uses the best tools to support our digital distribution, and we vouch for all of the products that we use below. They've all been in use consistently at Foundr for more than two years, successfully distributing our magazine to our now 20,000+ readers per month.
Digital Magazine App or Not to App?
When it comes to digital magazine technology, the core decision you'll need to make is: App or no app?
You can certainly host your magazine on the web, and countless magazines do.
However, there's something awesome about being able to flip through a magazine on your iPhone, anywhere and anytime. Most importantly, you can get an app in front of a whole slew of new eyes through app distribution platforms.
This is why Foundr took the app route. The reason Foundr Magazine made its first $5 is because it got in front of those eager-for-digital-magazine eyeballs hanging out in the App Store and Google Play. We chose to get in front of a market that had buyers. Steve Jobs conditioned customers visiting the App Store to be prepared to pay for content. What's more, these stores handle all of the billing, delivery technology, and might even help you with marketing (via "Featured" apps and other sections).
For these reasons, we've come to the conclusion that building an app to support your digital magazine is a much stronger play than a web-only magazine.
But whichever decision you make, here are the tools you need:
MagCast
MagCast is the technology that Foundr Magazine used to create our app, and from which we publish all of our issues. It allows you to upload your magazine's PDF through the platform, and publish using the technology. MagCast takes care of the rest—they build your app and set it up in the App Store. They also make it easy to configure your magazine to look good in app form.
Cost: $3,564 / Year
Mag+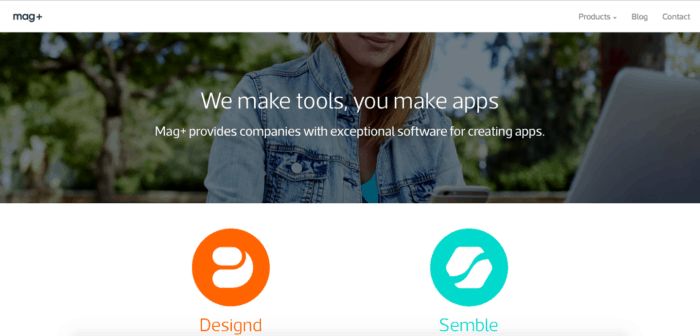 Mag+ is another magazine app creation platform, which fulfills a similar function as MagCast. We don't use it here at Foundr, but there it is for your consideration.
Cost: Variable (plans from $999 to $8,388 a year)
Amazon S3
Amazon S3 is the technology that we use to host the magazine. Just like podcasts, app stores don't host files on their servers. We use Amazon S3 to store our magazine on the cloud. It's inexpensive, dependable, and very secure. The best part about it is that it's scalable for the level of use you need.
Cost: FREE to $0.0007 per GB
Issuu
Issuu is a web-only magazine publisher. It's of particular interest to those who are planning on using their magazines as ad revenue-generating machines.
Cost: FREE to $279 a year
FlipSnack
FlipSnack transforms your PDF into an interactive flipbook, which can then be presented on your website. This is the technology that we use to upload past and present copies of Foundr Magazine.
Cost: FREE to $144 a year
Apple iTunes Store and Google Play
You need a place to distribute your magazine, and where else to go except the iTunes App Store and Google Play, where there are huge audiences waiting for your content. These stores already have the authority, audience, and infrastructure there for the taking. You'll have to get registered with these platforms and follow their terms of agreement and pricing.
Cost:
Apple iTunes Store: $99/year + 30% of the revenue from your sales
Google Play Store: $25 charge to register + $100/year + 30% of the revenue from your sales
When you start your magazine on a shoestring budget, it's all about wearing many hats (publisher, editor, writer, interviewer, etc.), and it might stay that way. But if you decide to grow, you can start to flesh out your process and bring on a team. At this point, you may need to expand into productivity and management software. Otherwise, the technology for deploying a digital magazine isn't too complex, and definitely within reach of the most tech-averse entrepreneur.
Create Awe-Inspiring Design
Today's online business landscape is VERY competitive, no matter what product you're selling. That means that you need to find new ways to impress your market and grab their attention. One key way to do so is with standout design.
How many digital magazines have the same serious covers, with predictable font choices, colors and layouts? Not that there's anything wrong with that, but the truth is, those things don't stick out anymore.
Great design is a minimum requirement. When it comes to digital magazines especially, your potential buyers will not invest in a copy of your work unless it looks great. That's just part of the experience they're paying for. Great design also gets you to that trust threshold required for someone to hand their money over the internet. It's legitimizing.
But design that gets your digital magazine thousands of readers has to go far beyond this threshold. You can't just be great—you need to be AWESOME.
Here at Foundr, everything we put out not only has great design, but we strive to make it unique, edgy, and even daring. We know that our magazine is read mostly by young people, who are full of energy and ready to make a change in this world through entrepreneurship. Our design has to convey that energy:
There are no shortcuts or formulas to good design. It really is just a question of hiring the right person for the job. Finding a quality designer isn't easy, nor is it cheap. You shouldn't expect to pay bottom dollar for top work.
So the question becomes, how do you find a good designer? Luckily for the modern entrepreneurs, there are plenty of websites that connect you to remote designers. These are great because they give you access to a global pool of talent.
These websites include:
Behance: Search through the portfolios of thousands of designers and post a job to get applications.
Dribbble: Search through portfolios of both individual designers and agencies. Pitch to them individually instead posting a job and getting deluged by applications.
You might have to go through a few designers or agencies before finding the one that matches your vision and market. Here at Foundr, we went through two designers before landing on the amazing one we have now, Karan Jain of MagFirst.
To find the right designer, always have a trial period or a test project. It could be as simple as having them create a short PDF based on a checklist.
The quality of the designer's work is just as important as the speed with which they create it. Equally important is the relationship that you have with the designer. Do you jell with them? Do your working styles meld nicely?
In the end, you need to pick a designer you can trust. There is nothing that bothers creatives more than when clients micromanage their work. Many designers will drop clients that do not give them enough creative control.
With our designer, Karan, we trust him to do the best job every time without much instruction. That's the kind of relationship you should aim for with your designer.
Round Up Top Content
You've got your magazine looking good, and you've got the right tech to put it out into the world. Now you need some epic content to deliver.
Foundr Magazine is made up of three different "types" of content:
General content related to entrepreneurship
Feature articles based on top entrepreneurs we interview
Virtual Mentor Q&A section
We round the magazine out with an editor's note at the beginning and Actionable Takeaways at the end. The overarching goal of all of our content is to give great, actionable, fun-to-read content for our audience, who will then take this knowledge to apply it to their business-building efforts.
Overall, we keep the magazine relatively short compared to your standard print publication, at between 10,000-12,000 words an issue. Most articles are between 2,000-5,000 words, with our features and front features leaning on the longer side. We also tend to run shorter pieces in the beginning of each issue.
As a good general rule, we find our readers enjoy content they can take away and do something with afterwards. Whether it's something that inspires them, or gives them precise instructions, we recommend making sure that your content is helpful to your readers in some way.
We've also found that it's best to also include some pieces that are lighter in tone and subject matter, since most of what we cover is about the business world. We like to insert some lifestyle pieces that would still add value to a busy entrepreneur's life, but also offer a bit of a brain break.
Whatever we put out, we make sure that it's absolutely awesome. How do we manage to get such amazing content?
Two steps.
The first step to awesome content is awesome writers. You yourself may be that awesome writer, and you might be able to pull it off all on your own. If not, here are the places where great writers hang out:
Problogger Job Boards: Post a job for only $50, get pitches from really great writers. Careful, you may get a lot of pitches!
HARO (Stands for 'Help A Reporter Out') & Sourcebottle: Here you can find people who pitch their stories, and get good story ideas.
Buzzsumo: One of our favorite tools. We use it to find trending topics and create content based on what's of interest right now on the internet.
The second step is getting a great copy editor. A copy editor will take your magazine from good to rainbows. They root out those grammar and spelling mistakes that you will miss during writing and editing. It depends on the editor, but ours also assesses the entire product and returns headline suggestions and stylistic feedback, such as the order of the articles, to produce the most polished and cohesive issue possible. This person provides a fresh, outside set of eyes to go over what you're creating, and offers insights you would likely miss.
You can find copy editors in much the same way that you find writers, that is, through the Problogger job boards, or good old Upwork.
When starting out, you may not be able to afford a professional copy editor right off the bat. Even if you are able to, it's good to have an understanding of what these people do, and how it is important to creating a quality publication.
First and foremost, copy editors police your use of grammar, spelling, and punctuation. But they also help ensure a consistent writing style for your magazine. This means making sure the way you spell certain words, punctuate quotations, or present things like titles and headings is the same throughout your writing. It might seem inconsequential, but readers will notice when your publication has all kinds of crazy punctuation, or "startup" in one sentence and "start-up" in the next. This will give your readers the idea that the publication in unprofessional, sloppy, and not worth the money.
When in doubt, a great default tool for this is the Associated Press Stylebook. It's the style bible for most of the professional media world. It can be old-fashioned at times, but is the standard bearer of all the media rules of the road. If you want something more up to speed with the internet age, check out Buzzfeed's style guide. They have advice on how to present some things AP Style probably has never considered, and others that might make you blush.
As you grow and bring on more writers, you'll find that having an internal "Style Guide" specific to your magazine will prove extremely helpful. A Style Guide is like a rule book that you set up, which outlines the conventions that your particular magazine follows—that is, the length of articles, how you handle things like headlines, first and last names, titles, the spelling of branded words, etc. This can serve as a reminder to yourself, and a quick reference for any new editors or writers you are bringing onboard.
In the end, the style of your magazine will come down to what you feel will speak more to your audience. If your publication is aimed towards more professional career people, it may not make sense to adopt a casual tone. If your publication is aimed towards a very tech savvy audience, it may make more sense to throw in technical jargon or acronyms without much explanation.
Whatever the style of your magazine might be, it's important to define it and stick to it.
EXCLUSIVE FREE TRAINING: Successful Founders Teach You How to Start and Grow an Online Business
Create the Layout of Your Digital Magazine
Your magazine will need to have some kind of layout and will most likely have recurring sections. For example, we have a recurring section called "Life Hacks" as well as our "Virtual Mentor" section, where an industry expert or entrepreneur answers questions sent to us via our Virtual Mentor email box.
In terms of layout, we sandwich our content between the editor's note from Nathan Chan, and our concluding section, "Actionable Takeaways," where we list the best actionable ideas from the magazine issue.
How should you lay out your magazine? There is no set way, but as with everything, get some inspiration from your own favorite magazines. Grab a few copies of your favorite digital magazine (Foundr Magazine right?!) and study each one for:
How it organizes its layout
Which recurring sections it contains
Use of visual points of entry
If they have themed issues
The length and tone of their articles (First person? Long narrative stories?)
Historically, magazines are separated into some main sections:
Front of the Book (F.O.B): This is the first third of the magazine. It contains elements such as contents, masthead, letters to the editor, recurring features like Q&As or book reviews, regular columns, mini-stories, infographics, product reviews. The F.O.B. usually tends to be heavy on quick, visual pieces, not long pieces of text. It can sometimes extend to the first half of the entire magazine.
The Well: Also known as the "Feature Well" is the heart of the issue. It holds the main stories, including the cover story. These articles take up big chunks of the magazine and are longer, with large pieces of text and illustrative photos mixed in. Sometimes a special issue will have closely themed features, but usually the topics vary.
Back of Book (B.O.B.): This is the last portion of the magazine. It's usually pretty short, and usually contains one or two shorter pieces to round things out. Sometimes it includes additional resources for readers. Often magazines will have a one-page recurring feature on the last page of every issue.
A table of contents from Foundr Magazine
Whatever you do, keep in mind that variety is a worthy goal for any magazine, new or old. Even in the Feature Well, keep your readers on their toes by avoiding too many very long stories in a row. Don't be afraid to mix things up a little, keeping in mind that your consistent and recurring features create something that readers can look forward too, while variations provide pleasant surprises.
We asked our fabulous copy editor, Tate Williams, for some parting advice on this subject: "When it comes to copyediting and proofreading (the latter is more about typos and tiny changes), I hate to say it, but on some level you need a professional. Otherwise you'll never quite get it right, unless you yourself are a wiz at grammar and punctuation. Even then, you need a fresh set of eyes. If you don't have the budget, have someone you trust with a good eye for detail give it a read and at least try to spot clear screw-ups."
Get Interviews with Hard-to-Reach People
Interviewing hard-to-reach people will likely be something many, if not all, digital magazines will be interested in doing. Whatever your niche, your magazine will benefit immensely from having a leader or influencer in your field appear in your magazine.
Nathan Chan was struggling to get people to accept interviews with his then small and unknown entrepreneur magazine. Everything changed when Richard Branson was interviewed and featured on the cover.
Nathan knew that he needed a big name to propel the magazine and raise its profile. He aimed right for the top with Richard Branson.
Branson has quite a few books out there, so Nathan thought to first contact the book publishers. From there, he found out who the head of PR was for Branson, which lead him to his main contact person at Virgin.
He then pitched to that assistant at Virgin. Key takeaway: Find your target's gatekeeper, whether that's an internal head of PR, their personal assistant, or an agency that represents them.
But the effort wasn't over yet. Nathan had to call this PR person four or five times, leaving voice messages each time. When he finally caught her over the phone, Nathan made his case, and emphasized that he really wanted Branson on the cover of his new publication. Key takeaway: Be persistent.
The PR person then agreed to an email interview, and the rest is history. The Branson issue was a major turning point for Foundr, with our interviews only getting better and better from there.
The Branson issue and the many other rockstar entrepreneur interviews we've done have had what is known as the "Oprah Effect" for Foundr Magazine. That's when you've interviewed so many awesome and successful people, that people become interested in what YOU have to say. That makes YOU the new influencer. Now we get pitched everyday—we've got our hands full!
Interviews may not be the format or type of content best suited for your niche, but if they are, be sure to read our post, The Ultimate Guide To Finding, Reaching, And Interviewing Top Influencers.
Promoting and Marketing Your Digital Magazine
When starting Foundr Magazine, we were able to grow at a rapid pace by using many different marketing tactics and strategies. That initially meant throwing things against the wall and seeing what stuck. In the early days, Nathan had to work out and test many channels that were effective for growing Foundr. Below is what worked the best.
Social Media
Nathan was trying out loads of different marketing tactics over social media, but was struggling to gain traction.
That was, until he tried Instagram.
Once he broke the Instagram marketing code, he started seeing consistent growth in email sign-ups and magazine sales. Instagram has been the top channel for Foundr Magazine's growth.
On Instagram, Foundr managed to generate 10k followers in two weeks, built an extremely powerful sales funnel and landed some huge exposure for the brand.
There is still plenty of ground to be covered when it comes to Instagram marketing, and you can still leverage the platform to build your audience. If you want to learn about how to do it, read these posts:
Instagram Sales Funnel: Crush Sales, Opt-Ins, & Conversions
How to Get More Followers on Instagram
Keywords
Keyword optimization for the App Store is not as complex as web SEO, although it is no less essential. You want your magazine to rank for key search terms in your niche.
If at all possible, you need to get your keyword into the title of your app. For us, "entrepreneur magazine" is a major keyword for our market, and is featured in our app title: "AA+ Foundr – A Young Entrepreneur Magazine." Using keywords can also get you in the top five apps pages, allowing you to piggyback off of the successful and well-known apps. For example, Foundr Magazine benefits from the fact that we show up along Entrepreneur Magazine in the top five apps under "entrepreneur." We also show up when people search for "Forbes" or "Harvard Business Review."
You can use tools like Sensortower to help you research your keywords, your competitors' keywords, and more.
Don't worry about the competitiveness of the keyword, get it into your title if at all possible. As always, perform A/B testing to refine the keyword that you include in your title.
Design
As mentioned earlier, the design and look of your magazine is of prime importance. Put yourself in the shoes of your audience. They are browsing the store, looking for something cool to read. Your front cover is therefore a marketing tool. Sweat over the covers and headlines because they can be the things that cause people to dismiss your magazine right off the bat.
Free App and a Free Issue
Without question, your magazine app must be free to download. This will reduce the friction getting from the App Store to your actual magazine. Up the ante by offering a free magazine issue. Offering even a couple of free issues is very effective in creating long-term subscribers.
At Foundr we give one of our best interviews (Richard Branson) and our guide to 10,000 Instagram followers for free, using our free app. Our 20,000+ monthly readers speak to the effectiveness of this tactic.
Reviews
The more (positive) reviews you have, the better you will rank in the app store. To get good reviews, you need to make sure that you magazine is top quality. Furthermore, you need to make sure that your technology works perfectly—no crashing, no unnecessary slowness, no annoying technical glitches. That's why we recommend you go with a dependable publishing technology company, like MagCast, which will take care of that whole aspect for you.
Otherwise, you can collect positive ratings by prompting users to review you in the digital stores, preferably a few times over the course of the user's interaction with the app. Foundr Magazine is lucky to have more than 540 five-star reviews, which boosts our authority and leads to more downloads, and more good reviews!
Influencers
Foundr Magazine does double duty when it comes to influencers. Not only do we get to offer incredible value to our readers by interviewing the top entrepreneurs from around the world, these Influencers also promote their features to their own audiences, serving as a valuable source of marketing.
Even if you aren't keen on doing interviews for your magazine, you can still network with influencers in your field and ask them to promote your work (for a fair exchange, of course).
If you want to learn more about how to reach and book influencers, check out this Foundr Blog article: The Ultimate Guide to Finding, Reaching, and Interviewing Top Influencers
Making Money: Pricing the Digital Magazine
Now for the fun part, setting the price for your magazine. This may be a bit difficult, as the production costs of your magazine will be much lower than a traditional magazine, and as such, you may be tempted to have this reflected in your price.
Don't guess at your magazine price. Do a methodical competitive analysis. That is, go into the channel through which you will be distributing your magazine—whether that is the App Store, Google Play or the web—and check out your competitors in the space.
Collect the prices, calculate the median and average. See how these magazines structure discounts for longer-term subscriptions and back issues.
For example, here's how Foundr has structured its pricing (all pricing in USD):
Individual issues cost $4.99
1 Month Subscription costs $2.99 (savings of 40%)
1 Year Subscription costs 21.99 (savings of 63%)
As we've done, incentivize your audience with savings for longer-term subscriptions, which offers them a deal, and provides you with higher per customer revenue.
Ready to Start Your Online Magazine?
So there you have it folks, EVERYTHING you need to know on how to create a successful digital magazine. We get this question nearly every day, and we are super happy to be able to produce this post to give you all a comprehensive answer.
The most important takeaway from this post is to explore different revenue models for your magazine. As mentioned above, traditional media based on ad revenue is on its way out, and we are seeing an emergence of new and exciting models. Magazines are now hosting conferences, creating courses, selling coaching, and even creating physical products. It's an exciting time to be a creative entrepreneur in media. At this turning point, the most daring and creative among media entrepreneurs will define the winning business models and become leaders in the field.
But what do you think? Do you think this new model will succeed? Are you thinking of starting a digital magazine? Comment with your thoughts below.
EXCLUSIVE FREE TRAINING: Successful Founders Teach You How to Start and Grow an Online Business